Camping!
So we successfully navigated a camping trip to Turkey Run and Shades State Parks with our friends, Frank and Naifen. There were a lot of relaxing moments and beautiful scenery and some exciting moments and lots of camp chores. Brave children and grown-ups with a sense of humor. Scrapes and a sprained ankle. Swimming, playing in waterfalls and streams and hiking in ravines. We don't have up (mountains or anything like) here, we just have little bits of down when the creeks erode the sandstone and give us dramatic ravines. I'm going to put up as many pictures as I have time for cause it was just so pretty!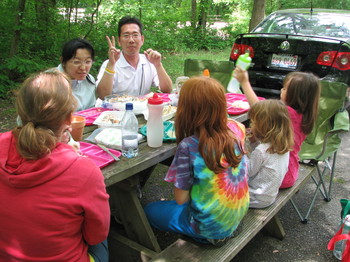 Camping requires lots of great food. Naifen started us out with some great sushi and rice noodles.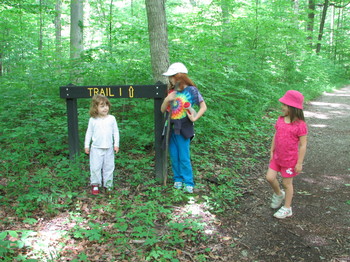 The intrepid hikers starting out on our first little hike at Shades to find 'Devil's Punch Bowl'. Such a weird name for something so beautiful.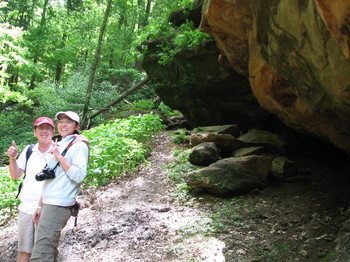 Frank and Naifen down in the ravine.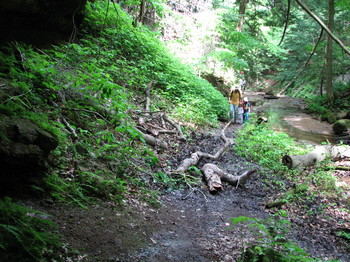 Coming up on a muddy spot.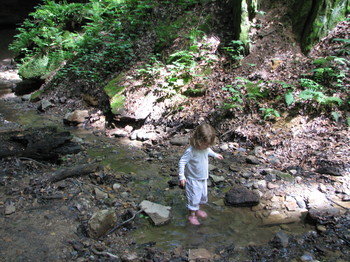 The creek makes a great trail.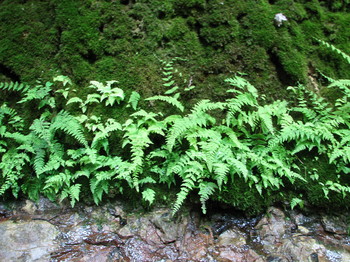 ferns. pretty.

ledge. pretty.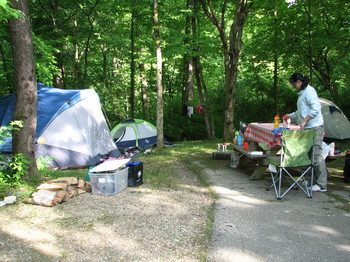 Here's our little camping spot.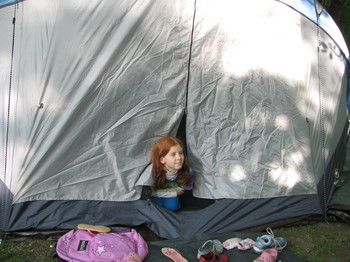 Georgia peeking out of our tent (that Nana got us. thank you, Nana!)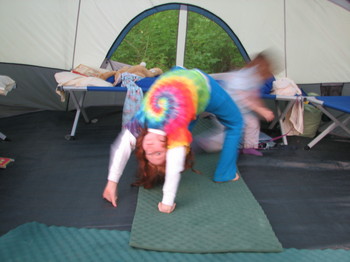 Georgia showing us her backbend. Isn't the tent huge inside? And I love having a round roof. It makes me feel snug.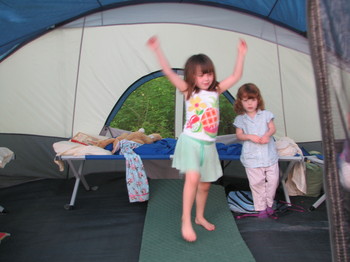 Maya showed us her handstand next, but it's a blur, so here's the start.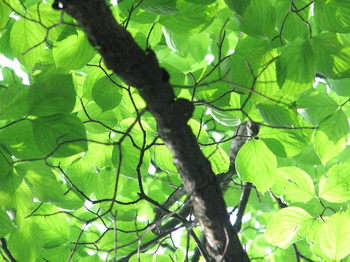 Here's the roof of our dining room. It made me happy many times. I looked it up later and I think it's an alderleaf buckthorn.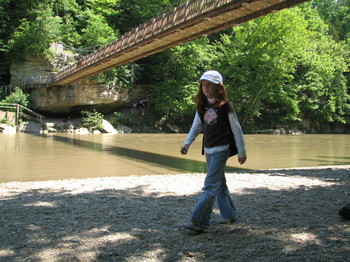 The next day we went to Turkey Run. Here's the bridge over Sugar Creek. On the other side are all the best trails through the ravines.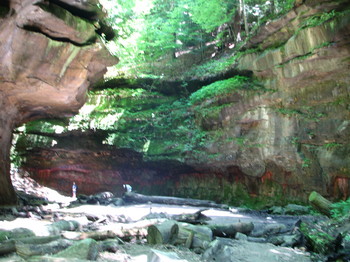 big ravine, tiny little Frank and Naifen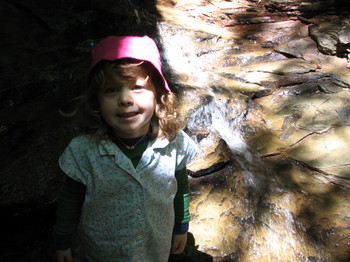 The trail was the creek bed, so when it narrowed and became a little sort of waterfall, there was nothing for it but to climb up. Teresa was a little scared, but she screwed up her courage and did it. I was very proud.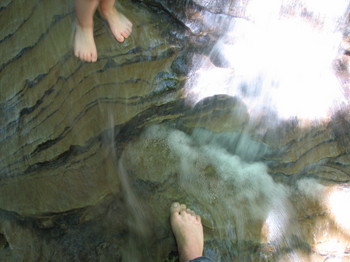 Here are our feet in the waterfall.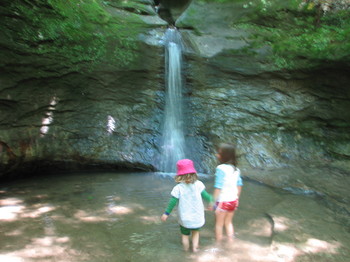 Here are Maya and Teresa trying out the punch in another punch bowl. They were really hard to photograph cause it's dark down there.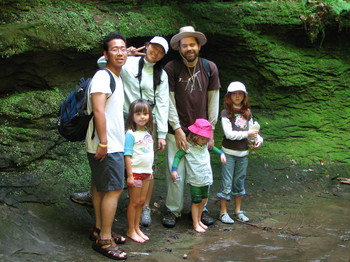 group photo!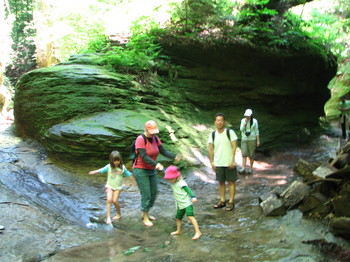 navigating slippery rocks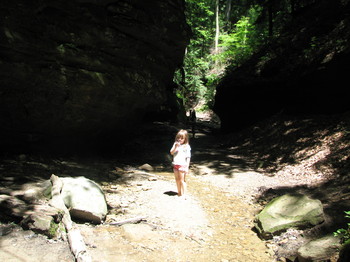 Maya in the light. She's holding a walkie talkie that she spent most of her time talking into to anyone who would play. Even if they were standing right in front of her.

Back on high ground and heading to lunch. The forest smelled SO fresh when we came up out of the ravine. Yum!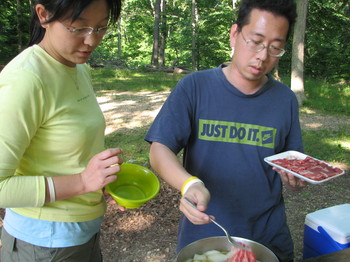 Back to the great cooks, making hot pot this time. I didn't make them cook all the time, but their food was so much more interesting. I did make a pretty good German potato salad, but it was much better warm at home than after sitting in the cooler for three days.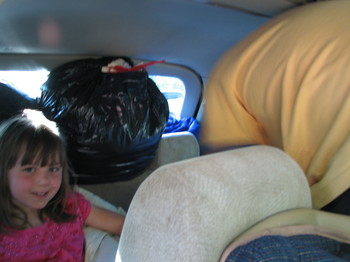 Billy did an amazing job packing up the van to the top with all our camping stuff. Maya enjoyed being wedged into the backseat with all the foam pads on her lap and stuff all around her.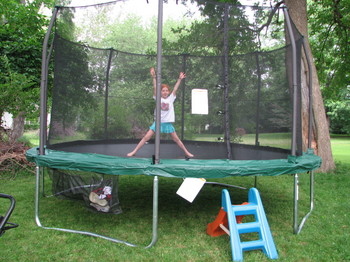 Looks like I had quite a bit of time for picture posting. And it's thanks to the new trampoline that Billy and the girls assembled yesterday. Yay! Time to go put together a stop motion movie of the making of said trampoline.
Posted by Bahiyyih at
06:09 PM
|
Comments (2)
May happenings
I'm trying to prepare for a camping trip AND stay relaxed about it, which is a serious undertaking. So, of course, I'm doing a completely irrelevant project and posting pictures here, but hey...it's my birthday, so what the heck! What's a birthday if you don't get to do what you want.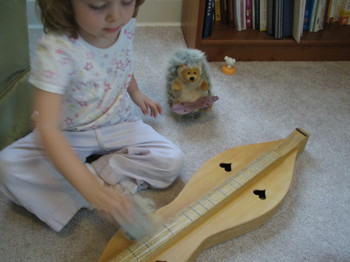 Teresa is playing a dulcimer duet with her dear hedgehog, Hedgo (sister to her other stuffed hedgehog, Hedgie, whom some of you have met).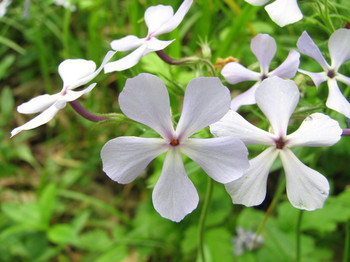 I got just what I wanted for Mother's Day- a muddy walk in the woods! Seriously. I got to hear all the birds and ford little streams- it was great. This is some phlox I saw along the way.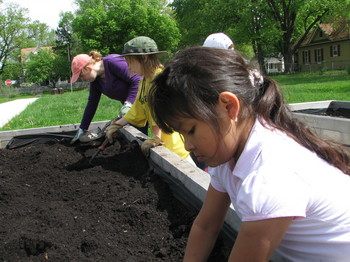 Here are our friends Patricia and Sage helping prepare the soil in the Children's Unity Garden, which we got to plant again this year. We didn't put in quite so many tomatoes this time so the other plants will have a chance at some sun.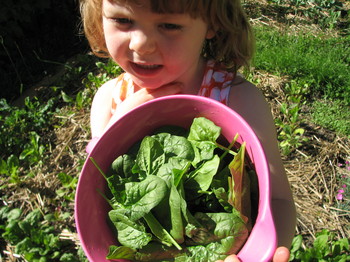 Here's the first spinach harvest. Teresa does not look enthused to eat said harvest, but I sure liked it! I cooked it up with some rainbow chard in one of my favorite recipes (Eggs in a Nest) from my favorite author (Barbara Kingsolver in Animal, Vegetable, Miracle).
Posted by Bahiyyih at
05:50 PM
|
Comments (1)