June is my favorite
I love June. It's got birthdays and summer weather that feels new and fresh (as opposed to harsh and baked by August) and yummy spring vegetables come in- peas, greens, onions, broccoli, strawberries, and raspberries and so many flowers! Roses, bee balm, and balloon flowers, yay! The weather makes fieldtrips really fun, and we had a good handful of them. Here are some visual summaries: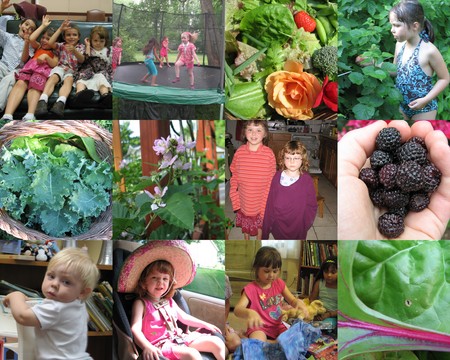 This is the mid-June garden goodies, Maya's birthday party, and a few of kids at Bahia Q.'s wedding (including Liam! Yay! Elsa was there too but she's a blur in all my pictures!). Oh, and Maya and Teresa dressing up as mommy, glasses and all.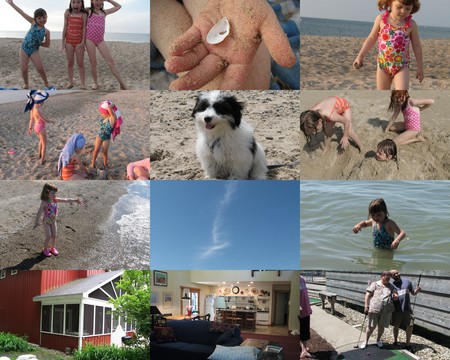 These are from our birthday trip from mom up to Sweethaven Resorts in Michigan. It was so beautiful! The bottom pictures show the cabin we were in, called the Martin (they all had bird names, so cute!). We had a great time on the beach when we weren't battling sand flies. Boo, hiss! Mom's dog Horton was very cute. We went mini golfing for Maya's birthday. I got to do a photo shoot with Layli's new beaded jewelry collection which I will devote an entire post to sometime soon as I didn't put any in this collage.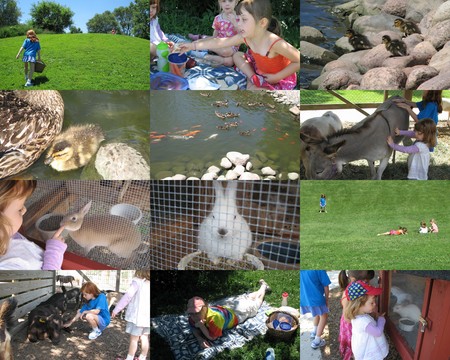 I took the girls to Prairie Farm this week (the local petting zoo) and we had a great time rolling down the hill, picnicking, petting frisky animals that would just as soon eat your clothes as look at you, and aww-ing at the very cute bunnies and, my favorite-- DUCKLINGS! Yay! I love those itty bitty fluffy ducklings! The kids got sick of my exclaiming over the ducklings and spending so long staring at the ducklings and taking so many pictures of the ducklings, but really, I couldn't help it. Georgia liked the teenage chickens and the calf, the others liked the goslings and peacock and bunnies. It was lovely.
Also, Maya got her ears pierced for her birthday (the big 7!); the first of the girls to show any interest in such a thing. She was very brave and didn't cry or have any nervous internal wranglings (that I know of). She's definitely my tough one.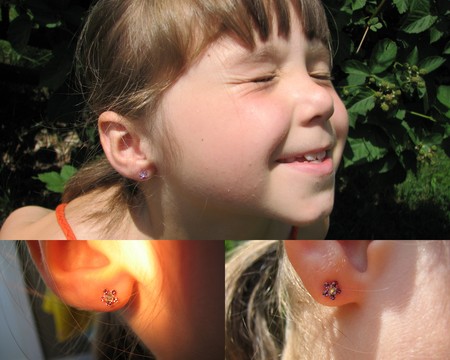 So hard to photograph pink earrings on peach skin! Anywho, you get the idea.
Oh! And Georgia went to Camp Louhelen and had a wonderful time there with cousins Lucy and Nadine, and met lots of great kids up there. She says she wants to go back and be a camp counselor some day. She is also suddenly interested in being on stage, if you can beleive it! She had so much fun singing in a choir and performing skits there that she wants to get involved with the park district's musical that they do every spring. They're doing the Sound of Music this year, but we're too late for auditions. Next year! I didn't get any pictures of Louhelen, of course, since I wasn't there. The brave and long-suffering Carlton and Joan Mills drove all the girls there and back, 5 plus hours each way! They deserve knighthood for such a feat.
July is starting out great too, by the way. Billy and the girls are making a bike train to ride in the 4th of July parade tomorrow. It's quite a production. There will be pictures, I promise.
Posted by Bahiyyih at
06:32 PM
|
Comments (0)