August 26, 2007
This house guarded by...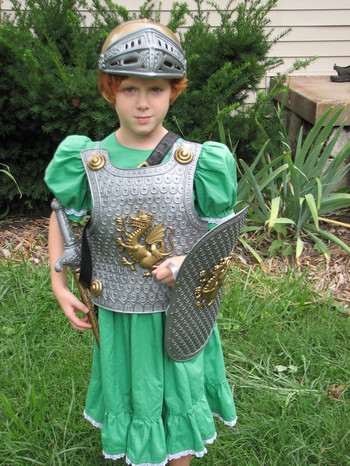 Lady Georgia. At the ready...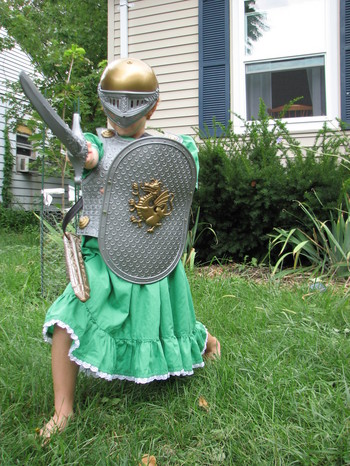 and... lunge!
(She spent her whole allowance on this costume, played with it for an hour, despaired that she had spent her WHOLE allowance on anything and resolved to put her next one in a savings account. Then, having made a satisfactory plan, she promptly gave the knight's costume to Devyn, who was greatly delighted. Lady Georgia was radiant at having accomplished such a thoughtful gifting. And all the lords and ladies of the court applauded her galant generosity.)
Posted by Bahiyyih at
10:30 PM
|
Comments (3)
August 13, 2007
Georgia blossoming and biking
Mom's recording a new music CD and it's still so formative that I don't even know the name of it yet. Our family got to sing back up on some songs, well, Billy and me and Georgia, who's old enough to read the words and deal with last minute lyrics changes. She was really great. I thought she'd be shy but she went right in and put on those headphones and sang right into the microphone. It was exciting to hear it all come together and went by so fast after all those weeks of practising the songs. At the second session, Georgia was even running out of the studio to call the other girls in excitedly when it was time to start working on another song. Here she is in the basement studio of Doug (handing someone headphones), mom's musician friend, with Avery, wonderful (homeschooled!) friend of the family, who was showing us the drama of being crowded by the microphone.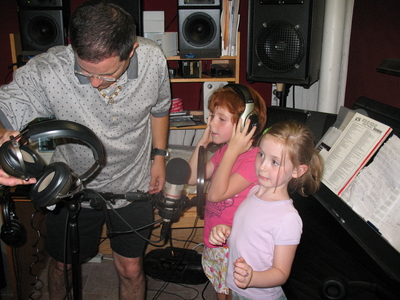 Here are the girls rehearsing with mom/Nana: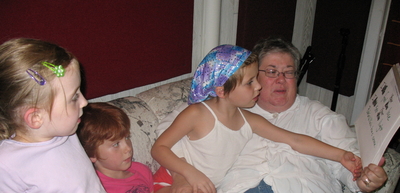 (left to right: Avery, Georgia, Lucy, Nana)

In other Georgia news, she just learned how to ride a two-wheeler without training wheels. She saw a five year old doing it at the park and her competitive spirit did her some good and helped her over her fears and she just tried and tried until she could do it. I was so impressed and amazed at how quickly she learned it once she started practicing. I guess she was ready.
She's also feeling ready for school to start. She'll be in 2nd grade in two weeks at Montessori Habitat School. I'm interested to see how it goes. Which is better than I'm usually doing- I'm not anxious or nervous, right now at least. I like the atmosphere and the ideas of the place. We'll see how it comes together in practice.
Posted by Bahiyyih at
01:50 PM
|
Comments (0)
August 11, 2007
Just one little thing
Have you ever been at a point in your life where you're in a cocoon phase because you're trying to do lots of new things that are hard and you haven't learned yet and it's a real stretch and growth and change are going to have to happen and it's really hard (yes, I mention that again) and really important so you have to protect it from everyone whether they mean well or not so it can be truely you that comes out of the cocoon in the end? Yeah, that's where I'm at. So I haven't said anything personal for a long time and that's why. Not ready to come out of it yet, just thought I'd give a status report since I'm past the very beginning of it and don't want anyone to think I'm lost.
I'll say this though, the cycle of baby-having and baby-caring-for has gotten me in the habit of working on large-scope projects in an intense, personal way.
And now for something completely different. Although, of course, everything is related somehow.
So I've been toying with the idea of using canvas bags at the grocery store since we accumulate horrendous piles of plastic ones in the course of an average month but I didn't want to shell out ten bucks a bag when I wasn't sure I'd really do it. Enter Trader Joe's (angel chorus: AHHH) where canvas bags are 2.95 each. Now I was nervous that the cashier at Meijer was going to get mad at me for bringing such odd-shaped, other-grocery-store-labeled monstrosities into their neat carousel bagging system. So I waited for a slow day and only got a medium amount of stuff that I thought would fit in the bags I had and took a deep breath and said to the cashier, "I brought my own bags" all confident-like so the guy would think I just did this every day. And he said, "alright!", not cheerily, but upbeat-accepting at least. I stayed by the bagging operation to put them in my cart as soon as they were full since they couldn't just twirl around like usual. And then! He started pressing a lot of buttons at the end of the transaction and he took 5 cents off my bill for every bag I brought! I felt like I had just won the lottery! I definitely felt a little sunshine from above that day.
Posted by Bahiyyih at
12:56 AM
|
Comments (1)