Georgia blossoming and biking
Mom's recording a new music CD and it's still so formative that I don't even know the name of it yet. Our family got to sing back up on some songs, well, Billy and me and Georgia, who's old enough to read the words and deal with last minute lyrics changes. She was really great. I thought she'd be shy but she went right in and put on those headphones and sang right into the microphone. It was exciting to hear it all come together and went by so fast after all those weeks of practising the songs. At the second session, Georgia was even running out of the studio to call the other girls in excitedly when it was time to start working on another song. Here she is in the basement studio of Doug (handing someone headphones), mom's musician friend, with Avery, wonderful (homeschooled!) friend of the family, who was showing us the drama of being crowded by the microphone.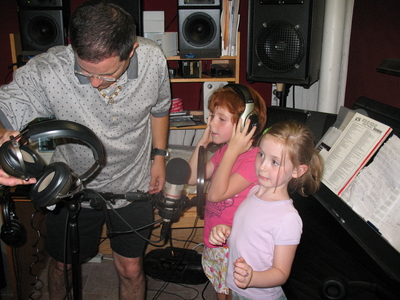 Here are the girls rehearsing with mom/Nana: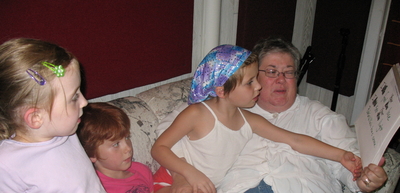 (left to right: Avery, Georgia, Lucy, Nana)

In other Georgia news, she just learned how to ride a two-wheeler without training wheels. She saw a five year old doing it at the park and her competitive spirit did her some good and helped her over her fears and she just tried and tried until she could do it. I was so impressed and amazed at how quickly she learned it once she started practicing. I guess she was ready.
She's also feeling ready for school to start. She'll be in 2nd grade in two weeks at Montessori Habitat School. I'm interested to see how it goes. Which is better than I'm usually doing- I'm not anxious or nervous, right now at least. I like the atmosphere and the ideas of the place. We'll see how it comes together in practice.
Posted by Bahiyyih at August 13, 2007 01:50 PM