camping with Georgia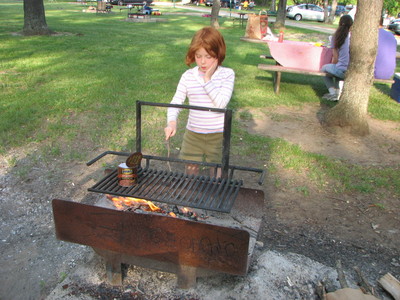 Georgia and I got to have some much needed bonding time on a camping trip to Kickapoo State Park this weekend. We were there with one of the Montessori schools in town. All the girl cousins will be attending this school in the fall and Georgia is interested in joining them there. We'll see if that looks like a good fit, educationally and financially, but the people sure are nice. Some of them I've known for many years just because this is a small enough town that a lot of the people that are going to be interested in Montessori down the line are going to end up in the same social circles. I'll be able to say more about the school after meeting with the director this weekend.
Georgia did a great job dealing with the hardships of camping without too much grumbling and she really enjoyed running with a sweet pack of kids, all very much engaged in the messiest things they could find to do (including collecting balls of pond algae in a pretzel bag and trying to get everybody to touch it).
We also went on an 8 mile canoe trip down a little, shallow river. It was very gentle and we saw lots of fish and water snakes, turtles, birds and butterflies while we paddled along, feeling very much like a part of the river ourselves. That is one of my favorite feelings in the world. Rivers are my special place. Being a part of one, however temporary, is heaven for me.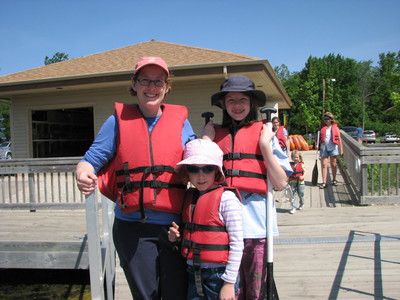 Here we are, posing in our gear, pre-trip, with Nadine. The rest of the crew are in the background. We took two canoes and stayed close by, swapping suncreen and advice about upcoming rocks.
Posted by Bahiyyih at
09:04 AM
|
Comments (1)