The Full Itinerary, as promised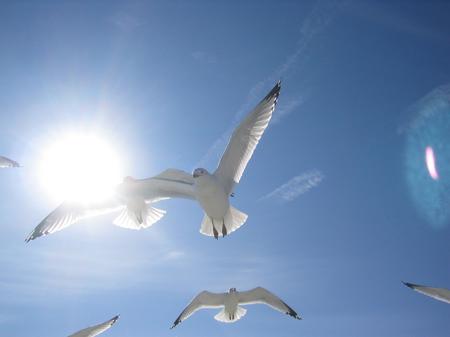 We're back! And here's what we did:
Day 1
We drove to Knoxville, arriving in the wee hours, and moteled it.
Day 2
We drove through the mountains in snow flurries, they were very beautiful, and we stopped in Asheville, NC for lunch. It's a very hip town where we found a fun restaurant called Early Girl Eatery that's run just how I would run a restaurant. Lots of toys for kids to play with, big homey dinner tables covered in butcher paper for drawing on (and a gallery of lovely doodles drawn over the years on said paper), chunky local pottery. Great southern food- I had a fried green tomato BLT and locally stone-ground grits with homemade raspberry preserves. It was the best! The kids alternately did a good job and an irritating job on the long car ride. We watched the Sound of Music on the laptop. What a miracle for car boredom are movies. We drove out of the mountains and every hour the weather got better and warmer- the snow stopped, the clouds changed from gray to white and fluffy. We drove through South Carolina and finally made it to Hilton Head Island around 9:30 pm, where we messed around getting ahold of the condo people, finally got our keys, drove into Brigantine Quarters and got out of that dern car! The condo had plenty of room for us all, a master suite and another bedroom with it's own bathroom, a fold out couch in the living room, a full kitchen with a cute tiny dishwasher and little washer/dryer. We had all the convenience of home without all the clutter! The kids ran around excitedly and jumped on the big bed in the master suite while the grown ups groggily tried to keep anyone from falling off. We were tired! But when the kids are up, the parents have to be up too, so sleep was not had until after midnight.
Day 3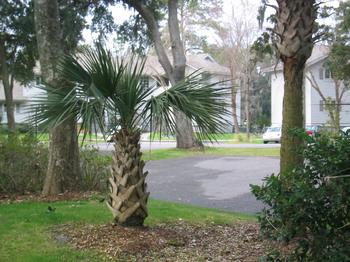 (our front yard)
This day we got oriented, got groceries, and tried to rest our sleep-deprived bodies. I woke up before anyone else (as I always do whether I want to or not on my first day in a new place) and went for a jog to find the beach. It was delightful, though chilly. The waves were so peaceful and there were cute little water birds working on breakfast. Georgia got homesick this day, but she did better later in the trip when there was lots of beach fun to be had.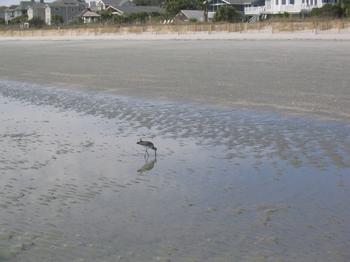 We also saw alligators this day, sunning themselves on the banks of lagoons around Shipyard Plantation (the gated community where we were staying).
Here's Husayn pointing to one. It looks like a brown log from here: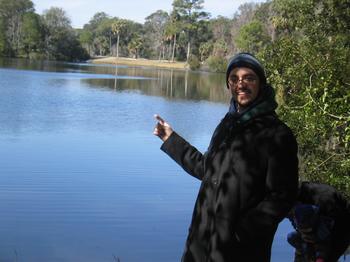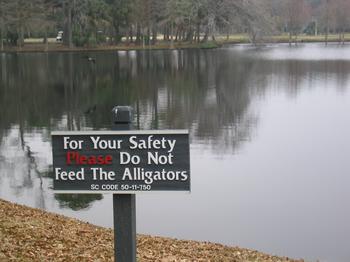 (the great sign)
Beach fun: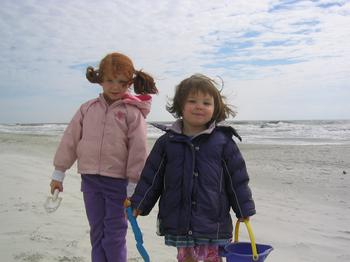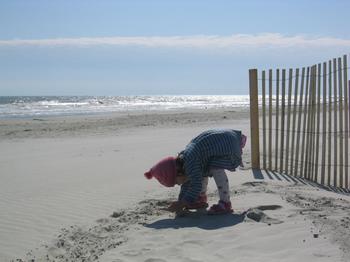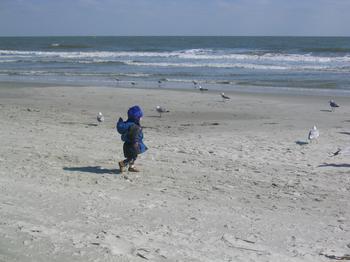 (that's Amia chasing seagulls)

Day 4
The vacationing was in full swing this day. Plus it was Teresa's birthday! We visited a light house and climbed to the top, where there was a little over-priced gift shop that had the little bobble-head turtles that I collect. I was delighted with that find.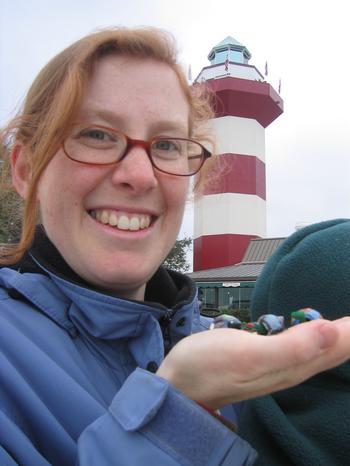 The light house was cool too- we saw dolphins swimming and pelicans flying low over the water and then Amia saw her mother down below and that was the end of the light house for her, mommy was much more interesting.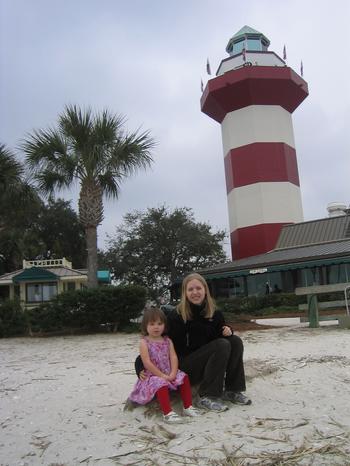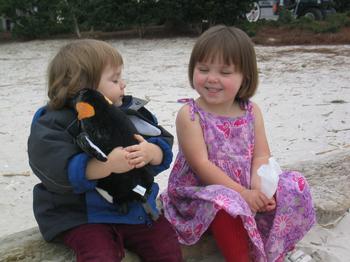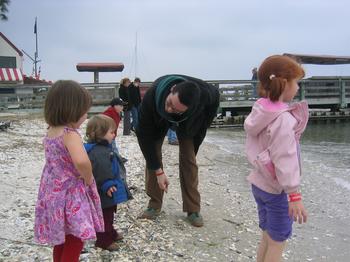 We took in a playground and a nature center and then went back to home base where the bikes we had rented had been delivered and we all took turns going on bike rides.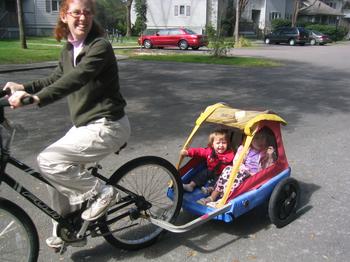 That evening Teresa and I made dinner and birthday cake while everyone else was off at the beach. I really enjoy those quiet cooking times, and Teresa was very cooperative. After our little party, we decided that as nice as S.C. was, we were ready to ditch it for sunny and warm Florida. Suzanne and I went on a fact-finding mission to Barnes and Noble where we got Billy's laptop connected to their wifi and compared maps with weather forecasts to see how far south we would have to go to wear swimsuits and play in the water. We found that we only had to go as far south as Jacksonville area, FL so we hit priceline and messed with settings until we got a $40 dollar hotel room.
Day 5
And so we were on our way to fun and sun. The kids were excited to go toward the warmth, through Georgia!! and to Florida (which Georgia is always asking me to move to). We got lots of souveneirs that said 'Georgia' and I told everyone I met there about my Georgia. They were all tickled. We drove until we came to Amelia Island, FL, which we couldn't possibly pass up with such an auspicious name. It was still too chilly for me to put on a swimsuit, but the kids were impervious and had a great time in the waves.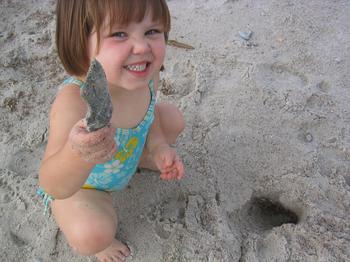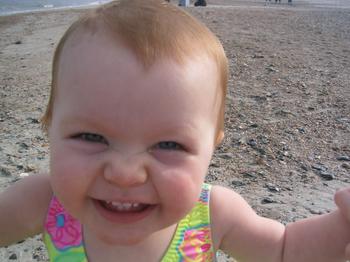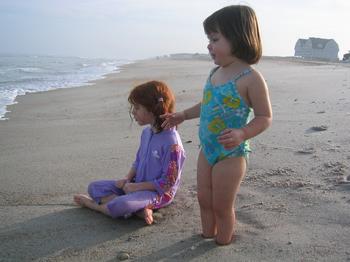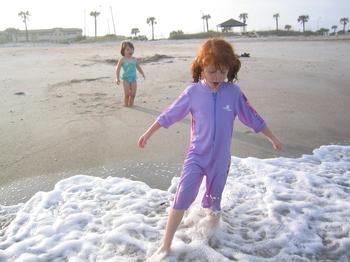 I was amazed with how many shells were on the beach- some parts were just solid with them about six inches deep.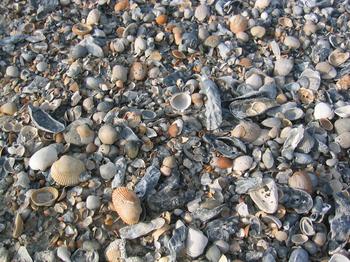 That night we went to La Quinta Inn where the pool water was so cold but that didn't stop any of the little ones from donning bathing suits and staying in the water as long as they could stand it. Amia stayed in until her teeth were chattering. Billy braved it too and dove in but had to get right back out cause it hurt too much. We all watched the Olympics in our pajamas and stayed up way too late, but we were happy.
Day 6
Started out warm and sunny and only got hotter and better. We were introduced to Florida wildlife outside the hotel while we were packing up.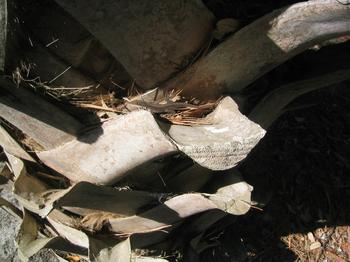 We saw an anole (so cute! I used to have one as a pet.) and big black snake in a bush (cool!) and a huge cockroach (at least 4 inches long, though let's see how Husayn measures it if he mentions it). We went straight to Jacksonville Beach and played in the sand all day.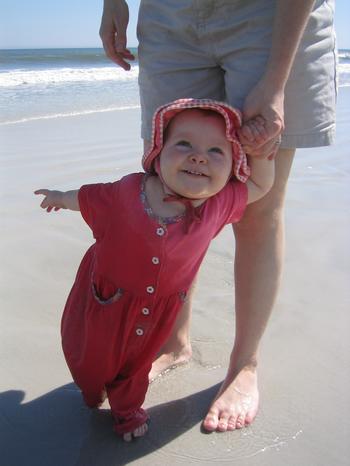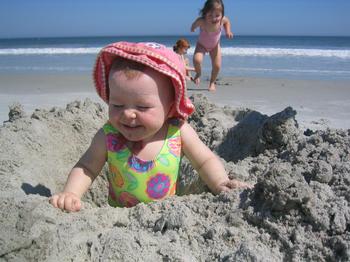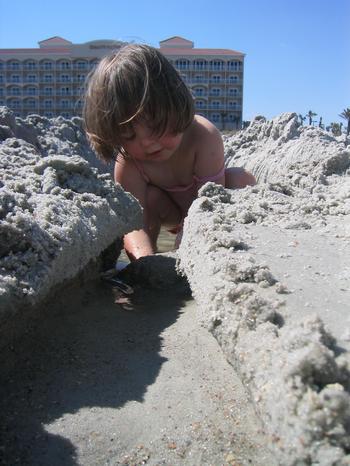 When we had had enough and the burning started (we did sunscreen but we missed a few spots on most of us and they burned badly). The Allmarts headed home as soon as Amia fell asleep and we stayed for dinner at Mother's where we had great fried okra (Billy) and fried squash (me) and a great waitress who regaled us with her birth stories (she had six children, including a set of twins). We had our own TV at the table (when they say comfort food, they mean it) and the kids got a little shot of their shows on PBS (Arthur and Maya & Miguel).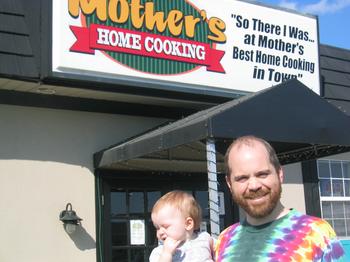 We had a long, tumultuous ride home where Teresa was really sick of the car, but eventually we got back to Hilton Head Island and went to bed.
Day 7
I spent this day inside with whichever kids didn't want to go anywhere and cooked and did laundry (which was kind of fun on vacation, strangely). There was much beach playing since it was sort of warm out. I got to stare into space for a few minutes, which was a real treat, seriously, and had a nice talk with Suzanne about motherhood. I got to go out with the Allmarts that night without my kids for gelato (chocolate hazelnut- yum) and adult conversation and since I was kidless I was able to play with Amia, which is a rare and special treat. She's so good at connecting with people and has a remarkable sense of humor.
Day 8
We decided to leave a day early so we would have a day of rest before the work week began. We had a last wonderful trip to the beach.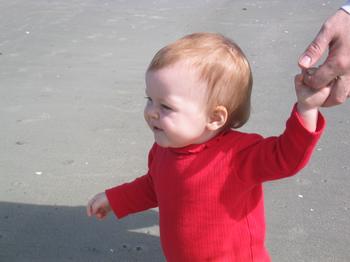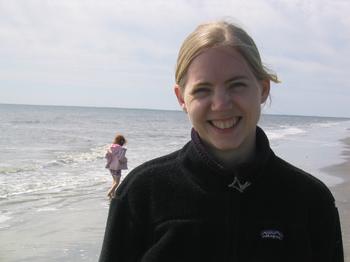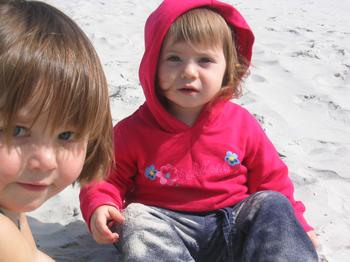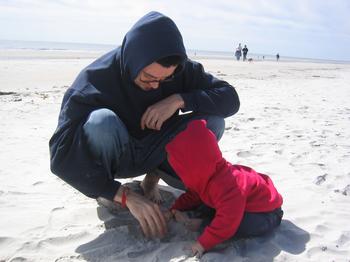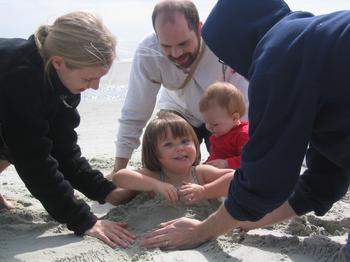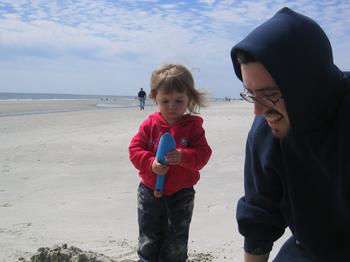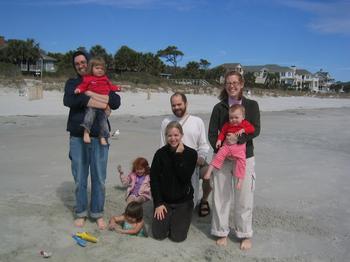 Then we packed and packed and cleaned up. Then we had a fun little cook out (including bison burgers! which are much milder than I imagined) and headed out. We drove and drove and drove and switched around from one car to another to curb car boredom. We had walkie talkies to talk between cars on the trip which worked really well and were extra fun (What's your 10-20, over. Roger rabbit.) but late that night we got lost from the Allmarts and were out of walkie talkie range and thought that we would never find them again but then they found us! when we pulled into the motel we had planned on sleeping at. Yeah! We stayed there the shortest of all my motel stays, a mere 7 hours (3am to 10 am).
Day 9
We had nice, sunny day for driving this day. It was actually sort of warm, surprising for Tennessee in February, I think. I really wanted to take a hike in the mountains on this trip and this was my last chance, so Husayn found us a trail at Wildcat Civil War Memorial by just following brown signs through rural Kentucky.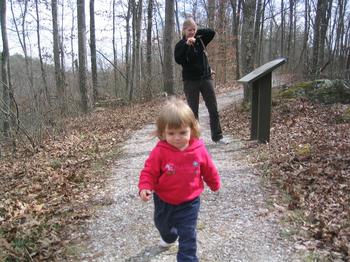 It was beautiful and new and the trail was magical. Maya, Georgia and I ran off down it to see where it lead. There were lots of descriptions of the civil war battle along the way, but we were more intereted in the mountain views. We went off the trail to get to the very top of one big hill and could see the mountains all the way around us. Then we found a great little cave that had served as 'hospital' after the battle and it was the perfect size for us so we went in and I was begged for a story so I told them the the storyline of the book 'My Side of the Mountain' by Jean Craighead George, with lots of embellishments since I couldn't remember very much and Georgia and Maya wanted to be added to the story. It was a perfect hike, the perfect length for the kids and so beautiful. We had a wonderful time. I could have stayed there for days. I really didn't want to get home. But it was time to move on, so we had a little Ayyam-i-Ha picnic while the Allmarts went on ahead to take advantage of Amia's nap.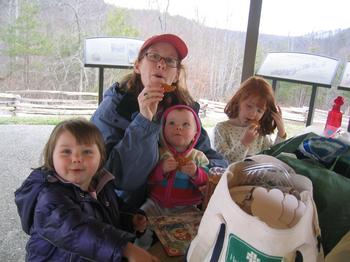 They called as we started out back down the winding mountain road saying that there was a traffic jam (from a bad accident) the way we had been planning to go home so they came back toward us and led us on a local road around the mess. If they hadn't gone on ahead right when they did, we would have been hanging out going nowhere on Hwy 75 for hours. We said goodbye near Indianapolis and made our ways home. I was sad that our trip was over but glad to be out of the car when we got home. And then, soon after we got there, who pulled up to our driveway but Nana (my dear mom) for a surprise Ayyam-i-Ha treat! It was a wonderful way to end a vacation.
Posted by Bahiyyih at
01:53 PM
|
Comments (4)