last summer
I promised Aunt Elaine that I'd post pictures up here of our trip to Port Townsend, Washington from summer 2003 since we've neglected to make her a CD of them for a whole year! It was quite a pilgrimage for me because I hadn't seen my dad's side of the family since I was 13. There was some transformation that needed to happen in that whole area of relationships- on both our sides- and some good work got done. Right before we left for that trip, we discovered a tiny cocoon hanging from the side of our house. It was smaller than half my pinky and grass green with shiny gold flecks on it (I can't beleive we never took a picture of it!). It looked like an alien's earring or something. So on the day we left for the trip, the cocoon was empty and there was a newly transformed monarch butterfly drying it's wings on it. We thought that was a pretty good sign, to say the least. The rest of the trip was not so magical, but it had some really great moments. Of course, I didn't see any of the behind-the-scenes work of the butterfly when it was still a blob of goo inside that cocoon- all messy and working hard. But we got to do some of that messy, difficult, confusing recreating and reorganizing work ourselves, dealing with old bad stuff and new good and bad stuff that happens in complicated families that have broken parts. Could I be any more vague? I could, actually, but at least I've protected the innocent and brought out some general themes. Enough to give these pictures a bit more depth, and so you can appreciate the journey for what it was not, namely a vacation. I found Washington state to be beautiful, scenery-wise, but in a severe, extreme way with trees like incredibly long pikes and strange chilly weather (in August!) and freezing cold ocean water. I think I'm just more used to the gentle shapes of deciduous trees, rolling hills and farmland.
P.S. In looking over all the pictures- it looks quite idyllic, and everyone looks so happy! Click on the images to see them bigger in another window, and be sure and click on 'continue' if you want to see ALL the pictures I picked out. There are quite a few, so don't be surprised if it takes a while to download.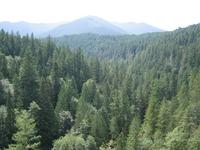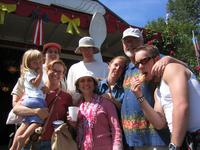 Lucy and me, cousin Annie, Oliver, Nancy (Dad's wife), Layli, Dad, Josh (Dad's step son)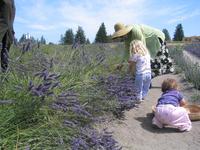 Aunt Jean with Maya and Lucy picking lavender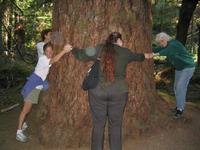 Aunt Elaine, Layli, cousin Annie, Grandma Vi

cousin Oliver, the rest of us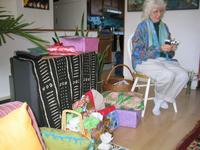 Grandma Vi's birthday party. She turned 80, and we tried to give her 80 butterfly presents (it's her favorite thing). We didn't hit 80, but it was fun to try!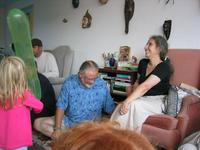 Dad and Nancy laughing at the birthday party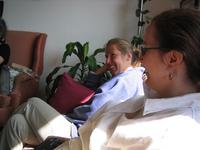 Layli and cousin Annie at the party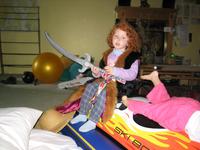 Georgia the viking invader preparing for a sea battle on her trusty 'ski boat' with captain Lucy at the helm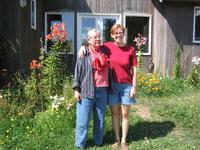 my very excellent great aunt Janet on my mother's side also happens to live in Port Townsend and she is so hip that she wears a stuffed squid to entertain the little ones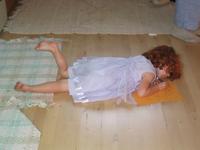 Georgia getting into her drawing on Aunt Elaine's kitchen floor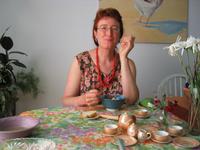 Aunt Elaine eating the reindeer stew with meat she brought from Alaska (she works there as a physician's assistant)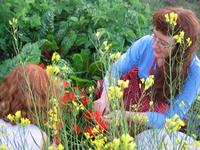 showing Georgia her nasturtiums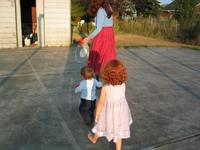 Aunt Elaine the pied piper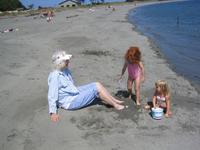 Grandma Vi getting her feet buried by Georgia and Lucy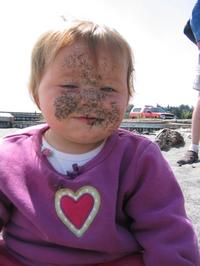 Maya immediately covered her face in sand when we got to the beach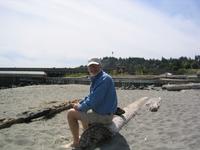 Dad on the beach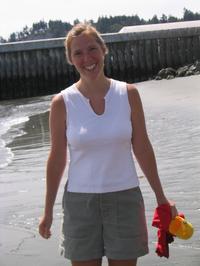 Layli on the beach

Maya got right into the water even though it was so cold that our feet were turning red and then blue from the chilliness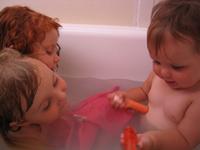 bathtime with all those cute faces, washing the sand off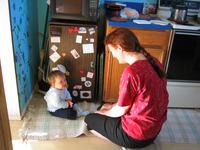 Maya bonding with Aunt Elaine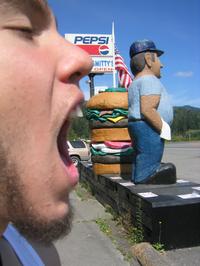 in the middle of a long drive to something scenic, we stopped at Fat Smitty's burger stand. Here's Josh taking a bite.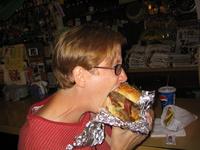 me taking a real bite of a Smittyburger. It was the best burger I've EVER had.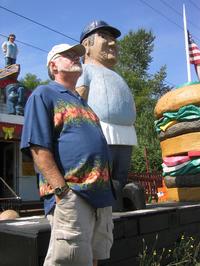 Dad posing with Smitty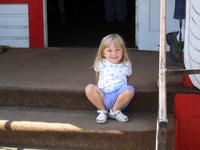 Lucy cutie outside Smitty's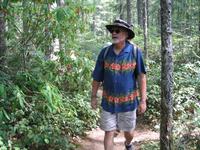 Dad leading the pack to the pretty view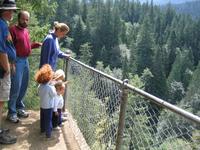 looking down the valley to our hike's destination

Billy bouncing down to the bottom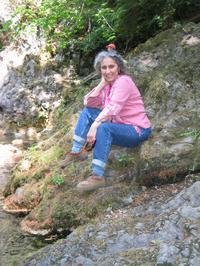 Nancy at the bottom, next to the river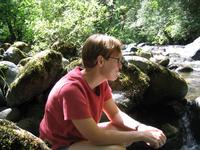 me in my happiest moment there, being one with the river (although not pleased to be photographed)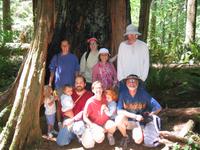 all of us about to go back up the hill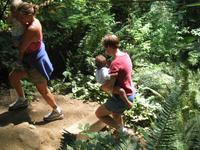 mothers of small children get to hike for two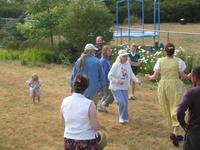 family playing 'mailman' at the social portion of feast at Aunt Elaine's house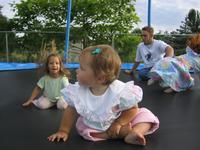 Maya cutie on the trampoline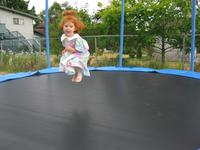 Georgia caught in mid air
Posted by Bahiyyih at September 15, 2004 05:41 PM