the elusive cousins picture
At the request of several grandparents, we finally got all the Baker cousins together for a picture. The last time we did that, Maya, Mathew, and Amy weren't born yet. This picture was taken in front of the Baha'i Center in Urbana at Heidi and David's going away potluck.

Back 'row': Nadine (holding Mathew), Georgia, Devyn, Mariah
Front 'row': Amy, Maya
Here's that beloved picture taken on the farm in 2001.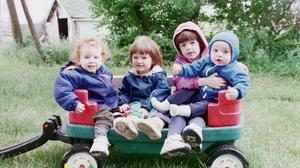 Georgia, Mariah, Nadine (holding Devyn)
Posted by Bahiyyih at August 10, 2004 09:58 AM