some things I'm clinging to as the cold sets in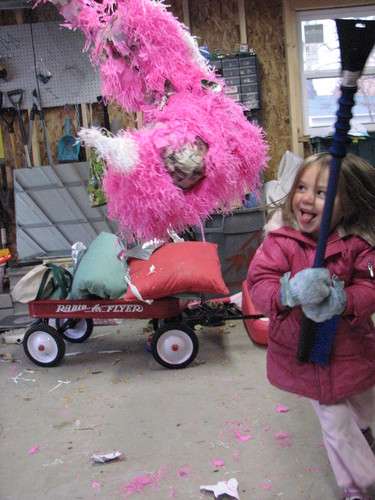 Winter Pinata vs. Maya
1. Our Vick's vaporizer. We plug it in as part of putting the girls to bed every night and as I sit in the dark, quiet bedroom, holding a hand or rubbing a head, I hear it at work, gurgling quietly, and I see and feel little plumes of steam rise up, beloved moisture, and the whole thing glows from a little green light on it's top. It's very soothing to my senses and I've gotten very attached to it. It has the same effect as sitting around a campfire, you know, all sleepy and warm but kind of exciting from the constant movement of the fire.
2. Cuddle Duds. Oprah's pick for long underwear, and with good reason. I find them very breatheable but not at all bunchy or constricting like the traditional cotton waffle-weave ones. It's my armor against chilliness.
3. Red lentil soup. Red lentils are the fast food of the bean world. They cook very quickly- add chicken stock, carrots and peas, maybe a little cumin and turmeric, and warming goodness is in your hands in twenty minutes.
4. Candy Cane Lane tea. From Celestial Seasonings. It's got the candy cane mint and that syrupy candy taste but without actual sugar. They've got some tea geniuses over there.
5. My elliptical trainer. When I'm too chilly to sleep and I can't get my toes to warm up I just get up and go for a little walk right in my bedroom on that thing. My toes are warm in no time and I don't even need the down comforter. Plus I'll be laughing my way to sleep because since Billy built me a little shelf for the laptop in front of the elliptical, I can catch up on old episodes of The Daily Show.
6. OK, The Daily Show needs it's own entry here. Not having cable, I had no idea what I was missing. Jon Stewart is so hilarious and I have seriously learned a great deal about what's going on in the world that I would not have wanted to learn with a straight face because it's just too awful/upsetting/infuriating/hopeless. Comedy is a really great treatment for current events. Billy was saying that comedians can get away with saying things that nobody else can like the court jester in ye olde days. (Did I say Billy said that? I meant Al Gore. Sorry, sometimes I get them confused.)
7. Ben Harper. Specifically 'Better Way', 'With My Own Two Hands' and 'Ground On Down'. I love that he's got little videos up on his website. Such a great way to get to know his music. And they all seem to be set somewhere warm with palm trees. Good winter music.
8. A little djembe goes a long way to make me feel alive and raise my pulse. I've been getting it out and playing it with the kids- playing rhythms for them to run, gallop, skip to, etc. and then they play for me and I dance around, and we play copycat with rhythms they make up. It's fun. And loud.
9. I started quilting again today after a long hiatus. It was so much fun that I laughed out loud and started talking to myself about it. I can't say I've done that before. I think I've decided that I should never not be quilting. It's so good for my mind and heart.
Posted by Bahiyyih at
12:01 AM
|
Comments (1)