bad + good = life
It's been one of those weeks where you're tested as a parent and as a person. Georgia had the stomach flu (the clean-up of which was almost more than I could bear with this sensitive pregnant nose) and at the same time this spam fiasco was happening, and then Maya got the same flu, and soon after she was better, I got it too. Tuesday night I was up all night with it. I'm finally on the other end of it and just started back on solid foods today. It was the worst stomach flu I've ever had in my life, for intensity. I didn't know there were that many colors of fluids inside my body. Luckily it was relatively short and my body was completely empy by the morning. I've just been sleeping since then and feeling every muscle I never knew I had all sore from fever or exertion or both, I don't really know. I don't hurt so much this afternoon, though, and am getting lots of good naps in. (Do you like how I have managed to refer only indirectly to throwing up in this post, without actually using those words? I'm trying not to be too gross. But I'll tell you one thing, I have not seen so much puke, so intimately, in my life. And I hope I never do again. But since I have three children to raise, I don't think that that wish will be granted. This is the reason that mothers (and fathers if they are the clean-upers) need to go to spas. To try to forget about all the puke. Ok, now I'll be all indirect agin.) Billy has taken the kids to Nana's house for Thanksgiving so it's really quiet here. The quiet is a real blessing when I need this much sleep. I miss everybody though. It's kind of strange to be alone on this holiday. But on the sort of bright side, what kind of enjoyment would I get at a holiday focused around food when all I can eat is Pedialyte and cheerios? Better not to be tempted to eat all that rich stuff that would make me feel awful at this stage. Seriously though, I miss my people. Happy Birthday Nana and Lucy!
I'll just have to make the best of it and get some QUILTING done between my naps!!!! yeah! That sound so decadent and luxurious, in a wholesome sort of way. I'm working on a twin size quilt for Maya's bed. It's the biggest I've attempted so far and it's quite a meaty project. There are so many parts that each take so long that it's hard to see the end of it. But that's what I wanted- something to make me feel like I've had enough so I won't miss it when my hands and free moments are no longer free during little sister's babyhood. And I'm using lots of fun colors- a lot of batiks, which are so delicious- for this quilt because it's a turtle theme and there's a big turtle in the middle with a sort of coral reef thing going on around it. So I get to get all Caribbean about it with happy swirly blue-greens and peaches and bright fish colors. I'm so excited about some of these fabrics that I don't even want to cut them up- I just want to hang them up in a big piece and soak them up for a while.
Speaking of pretty things to soak up, here are some late blooming roses from one of my birthday bushes that bloomed a few weeks ago. It's amazing to me how little care these rose bushes have needed to produce such lovely flowers. I've literally done nothing to them, they just seem to be happy where they are.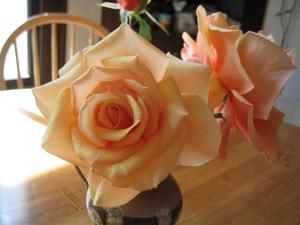 Posted by Bahiyyih at
01:20 PM
|
Comments (0)