what we've been up to..in pictures
Here's a summary of all the fun things we've done lately and remembered to photograph...
Maya and Georgia are taking a ballet class once a week: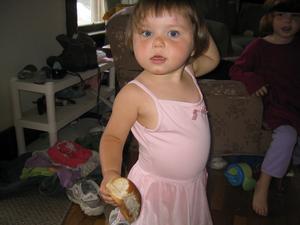 Maya all ready to go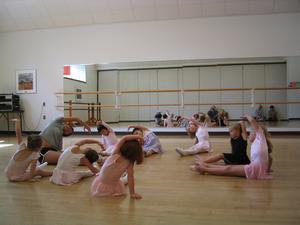 Georgia stretching in class
Went to the very sweet wedding of one of Billy's high school friends, Beth Rempe. It was at a beautiful farm outside of Urbana . They had dancing after the wedding in the barn (Hey, a barn dance!) that was really fun- Maya even danced the first one. Here are some couples swinging around with the caller in the middle (it was a contra dance).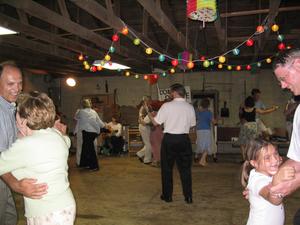 Here's Maya playing with some new friends at the 'altar'.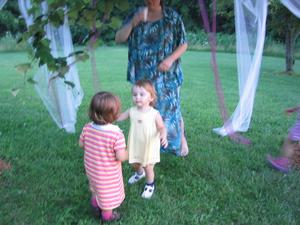 We got a bunk bed for Maya and Georgia so that there will be room in our bed for baby bean and then we played with the boxes that it came in. This is Maya getting ready to lie down on the outline of herself (Georgia's self portrait is on the left).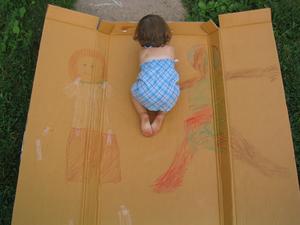 The glory of Mayaness- a relaxed intensity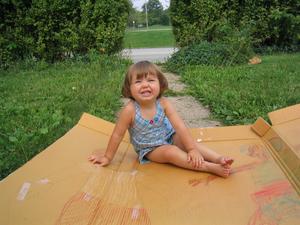 We tried to grow some grape tomatoes this summer, the kids were really excited about them, but they are struggling with not enough root space and one of those big squishy tomato horn worms almost ate every leaf and tomato on those plants, but Billy bravely threw it in the street to it's ultimate demise, and a few tomatoes managed to grow (I can only attribute this to the great rain we've had, as I've totally neglected them). Here are Maya and Georgia eating two of the three tomatoes that have grown to maturity, and enjoying them immensely (that makes me so happy- neither of them officially likes tomatoes but they've been waiting all summer for these). You can see that they have serious eating expressions on their tomato-ful faces.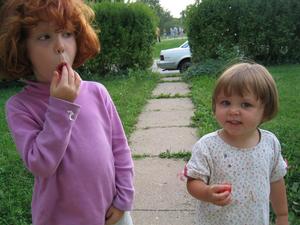 Other things we've been enjoying but not getting pictures of are: swimming across the street most evenings, after the crowd has gone home. I've found the cool water to be great for nausea reduction- which is my goal in life right now. Also, we've been working on finishing the dirt sculpting in the back yard. My part has been reduced to picking out rocks and garbage from said dirt while Billy does the shoveling. Not that I'm complaining- I'm a good cheerleader, and the kids will rock-pick with me and stay out of trouble for a long time- we pretend we're on a treasure hunt and they delight in finding any not-dirt item.
Posted by Bahiyyih at
10:03 PM
|
Comments (2)