week 12 - chocolate hazelnut tart
As promised...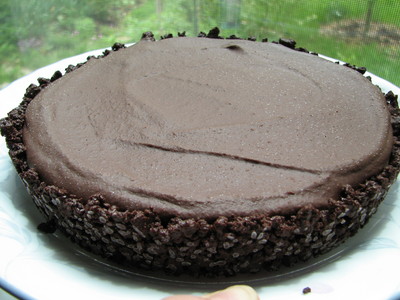 Dessert.
Fresh out of the freezer.
Yes, those are raw cookie crumbs. And I must say, they were a pain to make.
So far, I've only tasted the batter and cookie crumbs separately, but they were DEEPLY good!
If you've been reading along with this raw food adventure and you're in the area, I invite you to come over and taste this beauty with me. Please, please, please! Just send me a note letting me know when you can come over. I'll be back from mom's Sunday afternoon.
Here's how to make one of your own:
chocolate cookie crumbs from Everyday Raw by Matthew Kenney
4 c cocoa powder
4 c oat flour
1 1/2 t sea salt
1 c maple syrup
1 c agave
2 T coconut oil, melted
1 1/2 t vanilla
(Note: I halved this recipe (4 cups of cocoa!?!), used some honey to replace half of the sweeteners because that's what I had on hand, and replaced about a sixth of the cocoa powder with cacao powder.)
In a large bowl, mix dry ingredients thoroughly. Add remaining ingredients to dry ingredients. Mix well with hands. Crumble into small pieces (no bigger than 1/2 inch) onto dehydrator screens. Dehydrate 3 days. After dehydrating, process in food processor until small crumb consistency is reached (mine are a little big). Sift to separate crumbs from flour. Crumbs should be no larger than 1/4 inch. Store crumbs and flour in separate containers in refrigerator.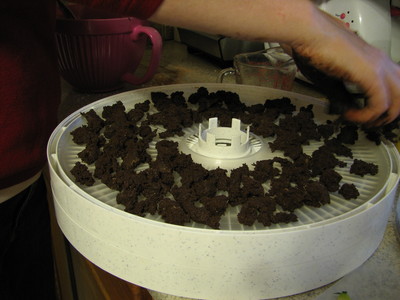 When that mess is done, the rest is easy. Just press, mix, and pour.

chocolate hazelnut tart
crust
2 c chocolate cookie crumbs
1/4 c coconut oil, melted
Mix coconut oil into cookie crumbs until crumbs hold together (Mine never did, oh well). Press a very thin layer in tart pan and chill in freezer before filling.
filling
1 1/2 c cashews, soaked
1/2 c + 2 T water
1/2 c + 2 T agave
1/2 c coconut oil, melted
1/2 t vanilla
1/2 t sea salt
1 c + 2 T cocoa powder
3/4 t hazelnut extract (I couldn't find this anywhere, but I had a few hazelnuts, so I threw them in with the cashews.)
Blend all ingredients in Vita-Mix (or your blender, if you're like me, and are content to have slightly lumpy tarts) until very smooth. Fill cookie crumb crust and chill in freezer overnight. Remove tart from pan and wrap in plastic wrap. Store in freezer. (Eat with friends.)
Posted by Bahiyyih at May 14, 2010 04:03 PM