week 4- almond milk and Thai salad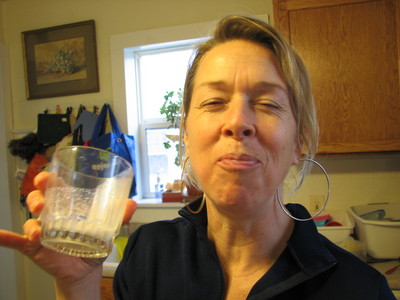 Jenny enjoying her almond milk
Hello and welcome to week four of experimenting with raw food recipes. Above, you can see Jenny tasting the almond milk (yum) which was really easy to make (yeah!).
I just soaked a cup of raw almonds overnight, then rinsed and drained them and threw them in the blender, along with:
4 c water
2 T coconut oil
1/4 c agave
1 t vanilla
a pinch sea salt
and mixed them up in the blender for a few minutes and strained it through a strainer lined with a piece of cheesecloth. That's it! Simple and good. Matthew Kenney's recipe above also calls for 1 t lecithin, but I don't know how to get ahold of non-soy lecithin, and honestly, we didn't miss it.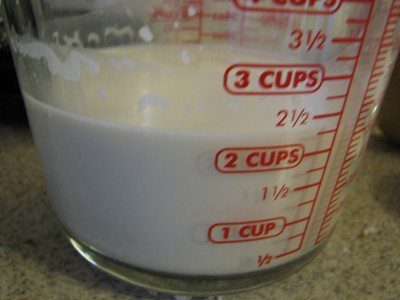 And the almond mash that's been strained out is quite good mixed with a little with a little honey and chocolate sauce, according to Billy.
The other lovely food that we made (well, Jenny made, I watched) was Thai salad with creamy thai dressing. It's an exotic and beautiful salad. Billy and Jenny really liked it. It wasn't quite to my taste, but I find my tongue a little sensitive during the fast. It was really fun to make, though. And the point of it is to be a salad that's a whole meal, which I heartily approve of. Usually I make mine mild and tame compared to this lovely thing. Here's Jenny showing us how to take the top off of a young coconut (also called a water coconut).

Here's the lovely Thai salad. I was really excited that we got to put the curried cashews on it that I had made a few weeks previous.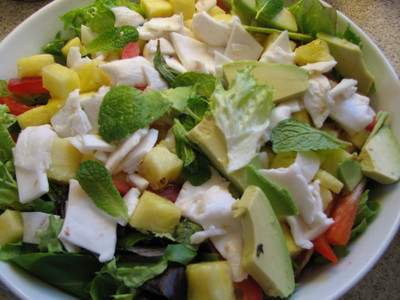 2 handfuls mixed greens
1/2 c finely diced pineapple
1/2 c soaked, finely diced sun-dried tomatoes
1 avocado, sliced
sea salt
black pepper
1/2 red bell pepper, cut into strips
1/2 c thinly sliced young coconut meat
1/2 c chopped curried cashews
1/2 c creamy Thai dresing
cilantro leaves, for garnish
Layer greens, pineapple, tomatoes and avocado, add salt and pepper to taste. Add a layer of bell pepper, coconut, cashews, dressing and cilantro.
creamy Thai dressing
3/4 c sesame oil
1/2 c nama shoyu
1/4 c olive oil
1/4 c lime juice
1 T maple syrup
4 Thai bird chiles or 3 t red chili flakes
1 t sea salt
1/4 c. chopped cashews
Blend it all in a blender till smooth. (All recipes are from Matthew Kenney's "Everyday Raw")
Jenny didn't care for the dressing. I think if we made it again it would have less sesame oil and I wouldn't put any shoyu-type thing in it, of course, since I'm allergic to soy. I imagine the lime and olive oil w/cashews and salt would make a good creamy dressing all on their own, in my bland little world.
Posted by Bahiyyih at March 11, 2010 02:57 PM