a start - Week 1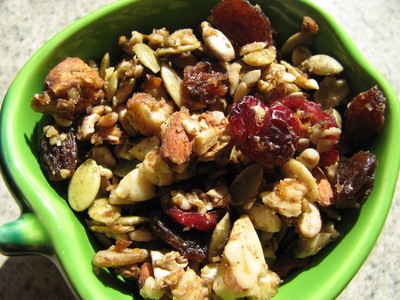 We made a start on our raw food adventure! I borrowed Zivar's dehydrator, Jenny gathered the ingredients and made raw granola and a blue green algae smoothie. I had sick kids that day, so Jenny did all the work and I just brought the dehydrator over and got to taste everything.
First, the smoothie. I have never been a fan of coconut water- even living in the Caribbean for a year didn't get me used to it. Knowing that this smoothie had coconut water as the base, I didn't expect to like it, but it's so darn good for you that I really wanted to. Well, the first sip was definitely the best. It had vanilla in it, which masked the coconut water pretty effectively. But it slithered out after the first few sips and I couldn't drink more than a little of it. Emotionally I liked it because I felt like I was being deeply nourished, but my tongue was not impressed. Now, that granola was heaven. You can't really go wrong with granola anyways. But this stuff was at a higher level of granola consciousness. It had a bright citrus flavor from orange zest that balanced the dark dried fruit and nut earth-tones. It was immediately sweet from the agave, but it didn't linger and make it taste like a cookie, just a quick 'Hi, I'm agave, nice to meet you. Have you met my friends sunflower seed and dried cranberry?' Yum! And after it went through the dehydrator, it was all clumpy and crumbly, just like any other granola.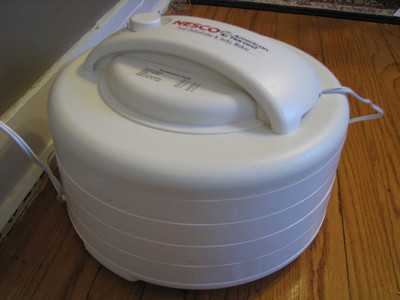 Here's the dehydrator. I ended up buying my own this week- 60 bucks at Farm and Fleet. Those farmers know all about dehydrating.
Next up, super immunity smoothie and curried cashew snacks. We're going through the book from the beginning, so it's drinks and snacks first off. I don't think I'm going to write out the recipes we use every week, because I'm lazy and because the book we're using, "Everyday Raw" by Matthew Kenney is sitting there at your library, hoping you'll check it out (at least if you live in a foodie-lovin' town like Shampoo-Banana).
Posted by Bahiyyih at February 24, 2010 10:07 AM