the little engine that got wet
As promised, the 4th of July parade adventure, in pictures. Billy was planning to ride a bike in the parade with the biking club that rides in it every year, and he wanted to do something special. First, it was all the trailers that could be attached to each other into a bike train.

Then he decided to decorate the whole thing by making it look like a real train. All the planning and the making was a lot of fun for him, from an engineering and makin stuff standpoint.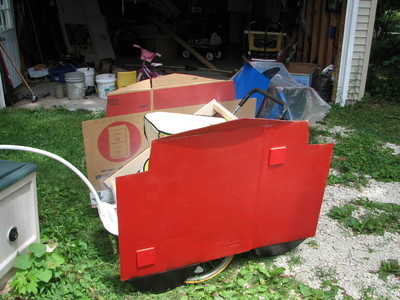 The girls got excited about it too and helped in the building.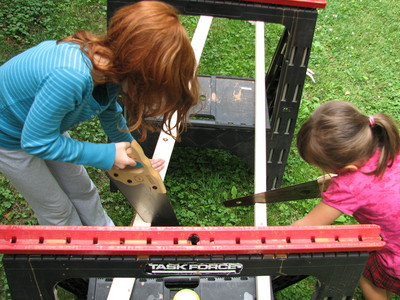 The parade's theme was something about Abraham Lincoln, so we put a Lincoln quote up on the side of the train. I had a lot of fun with a glue gun and Teresa and Maya made a game of finding the right letters for me. I bet Lincoln's words have never been emblazoned on a train's engine using foamy letters before (perhaps for the better).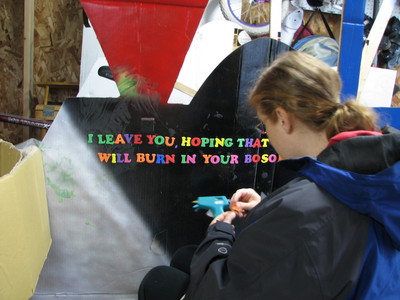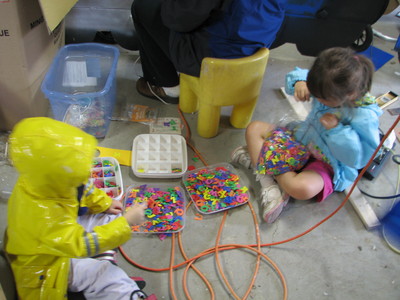 Well, then parade day came and it rained and rained, hard. Billy and the girls all wanted to ride in their train anyway and headed off to line up for the parade, with a cautious send off from Grandma Amy and Michael.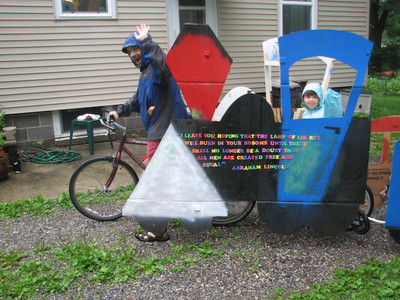 (Billy the engine and engineer)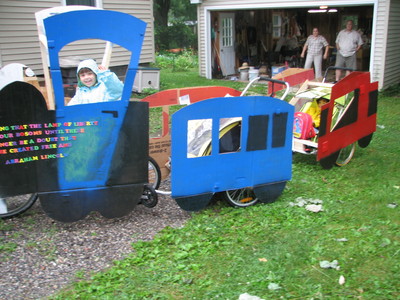 (Maya's on her ride along)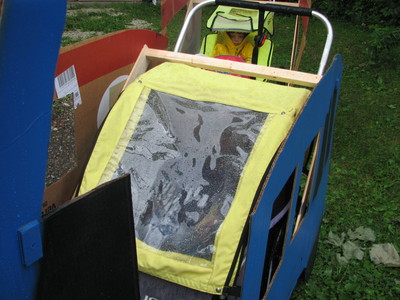 (Georgia's somewhere under that plastic windshield in the passenger car)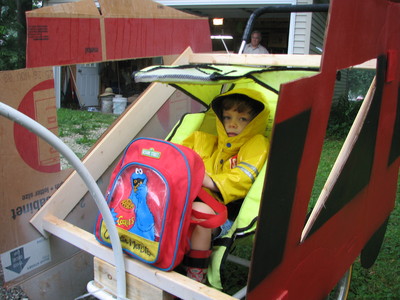 (Teresa in her caboose trailer, ready to go)
Unfortunately, the parade ended up being cancelled because of the downpour, and wisely so. The train, being cardboard and all, didn't take well to water.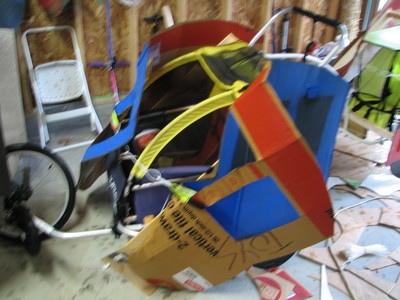 But Billy and the girls had their exciting adventure, so... mission accomplished. Sad, yet fulfilling. Luckily, we were all about process, not product, so nobody was too down-hearted.
Here's that foamy quote in it's entirety, perhaps readable?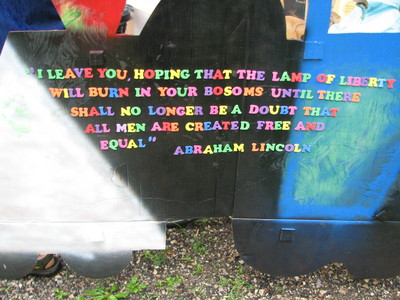 P.S. Sorry it took me so long to put it up, Grandma Amy! July was a bad month for me allergy-wise, and I have been much less than productive.
Posted by Bahiyyih at August 12, 2009 10:13 AM