a lot of collages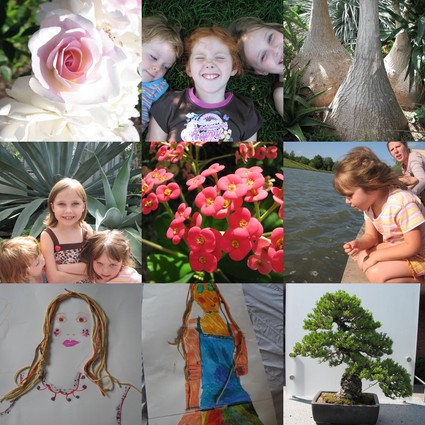 I'm playing with the collage feature of Picasa2 so I can catch up with all the pictures that I've taken since the big computer died. Here we go! These are a few pictures from our last visit to the Nana/Layli house. We called it Aunt Camp and did great things like visit the botanic gardens and make life size drawings of ourselves (though I never did get to making mine since Teresa rebelled against the whole exercise and I was on damage control most of the time). You can see Layli's and Lucy's self-portraits on the bottom row there. I just love them!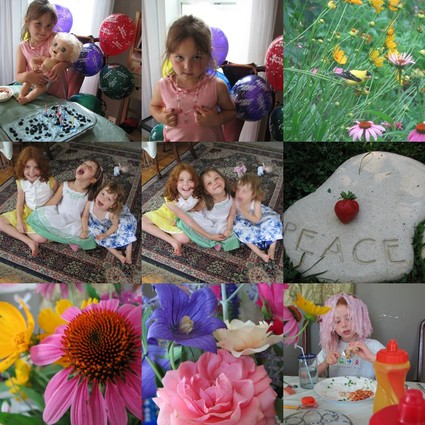 Here's a collage of the best of June. We've got Maya's 6th birthday, complete with requested doll that pees and poops (REALLY not as fun as it sounds, turns out. Who knew?), my standard sending-my-child-off-to-school-for-the-first-time-how-will-they-cope?!? homemade heart necklace, dispensed to each child at their 6th birthday, and the requested cake made to look like a swimming pool. With blueberry bubbles, of course. (She's pretty easy to please.) OK, and then there's one of the stepping stones Amy got me for my birthday and some flowers that bloomed for my birthday too. Ooo, and a goldfich that visits us almost every day now that we have yummy coreopsis seeds for it to munch on. The bottom right corner is Georgia wearing a grass skirt for a wig.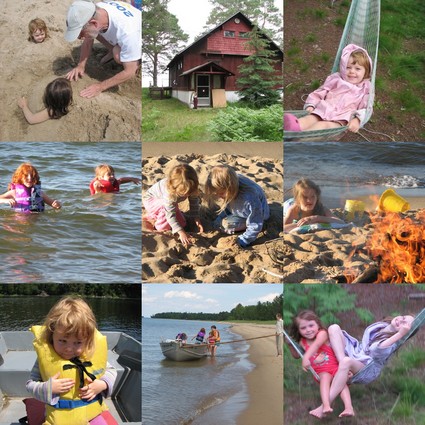 These are people pictures from our trip to Lake Superior. We've got Grandpa Jim burying Teresa and Maya, the Guyot Gitcheegumee grand palace- built by Grandpa Jim's parents, Teresa's first experience on a rowboat (also my first time rowing a rowboat- we were crossing a river to get to a little island where we could get a good look at Tequamenon Falls), Teresa's second experience on a rowboat- being poled along by Grandma Dottie with older cousins being the motor, kicking in the water at the back of the boat, and there's even a picture of the four elements (if you count Mariah as the wind, which I think is fair). Not pictured in this set are Grandma Patty and Uncle Mark that we got to visit briefly on the way up. I'm very happy that the kids are old enough to make the trip to their neighborhood so we can do it again!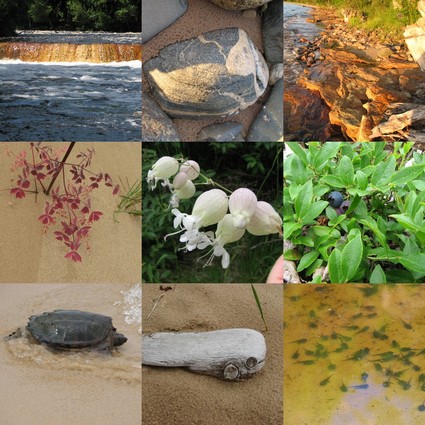 And here's one with some representatives of the mineral, vegetable, and animal kingdoms from the same trip. We've got one of the Tequamenon falls (Teresa said it was maple syrup, I said apple cider. Either way, looks really yummy, though it's really just dark from leaves rotting in it. Hmm..), there's a shy blueberry peeking out (we were there just before they really came into season), a turtle hurrying back into the lake, some tadpoles from a pond, and one imaginary whale. I did not photograph the many attack flies and moose-draining mosquitoes I found there. I also saw some loons on the lake, which was a beautiful experience first-hand, but just a little black blur in my picture.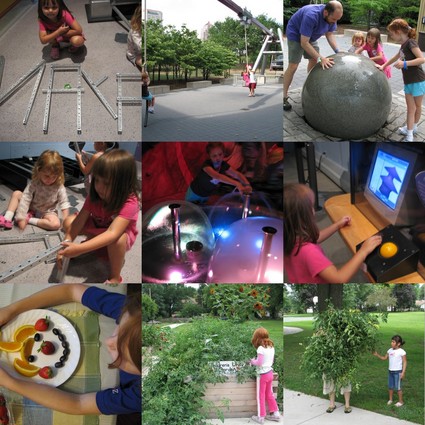 One last one! I'm having way too much collage fun here, I know. These are all post-gitcheegumee pictures. On the way home we visited dear Ann and Rich and went to COSI which stands for the children's science museum in Columbus, somehow. Maya built her name from big erector set, she and Georgia lifted a car (with the help of a very big lever), Billy rolled a granite ball around (with the help of water jets underneath, etc etc. Then back home and there's Georgia's fruit face creation that she says has a propeller hat on. And finally, the Children's Unity Garden is possessed by giant squid tomato plants trying to make it to the next raised bed to continue their plan of world domination and a shrubbery that's sprouted legs!
Posted by Bahiyyih at August 7, 2008 01:48 AM