bits and pieces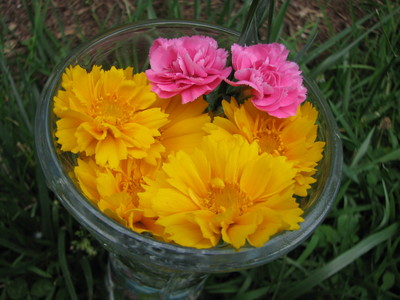 pink dianthus, yellow coreopsis

Mmm, mm. Love those colors. I've been posting the best of my flower pictures this year on my facebook page, as an experiment, to see what facebook can do. So far the results are mixed. I like being able to easily get in touch with people, but some of the things you can do on facebook seem like time suckers for their own sake or weird ego boosters, not actually helping you connect with people. That's probably harsher than it needs to be, sorry facebook. It's weird, but facebook makes weblogging seem old fashioned. I'm partial to the weblog format, though. It's got a big chunk of character and room to work out thoughts. It's also a lot more coherent.
I just spent a big chunk of this past week reading Middlemarch (or I should really say skimming, as it's 792 pages long) written by George Eliot, although that's not HER real name. My favorite character was Mary Garth. She was the sensible, 'plain' girl that kept rebuffing the childish scalawag until he got his act together and grew up a bit. I also liked Dorothea sometimes (she's probably the main character) because she was extremely forthright and cut through the crap that everyone else was bound up in so she could follow her own conscience. The book was mostly about three interlocking stories of couples and their problems. I liked how I could see the beginning of problems in a marriage and then the middle of the problem, and what the end result was, all in detail. A lot of good social satire there. There was a lot of abstruse pontificating in the book though that took up quite a few pages, hence the skimming.
Pool season has begun, so we're over there every afternoon that the girls can get me to agree to it. I'm trying hard not to get cancer of the skin or any other part though, and have so far been able to hide from the sun pretty well with sunglasses, sunscreen, a shady spot to sit and a large cover-up type garment over my swimsuit. Everything but the suncreeen prevents me from actually swimming though. We'll see what happens when it's too hot to sit on the sidelines. The girls have t-shirt type swimsuits and lots of sunscreen too, but that's all I've figured out so far since they actually want to be IN the water. Weird.
The girls and I are going to stay with Layli next week to take care of Lucy a little and hang out a lot. Any of you in the Chicago area want to get together? Maybe hit the beach or botanic gardens?
Posted by Bahiyyih at June 11, 2008 05:58 PM