What's up Friday?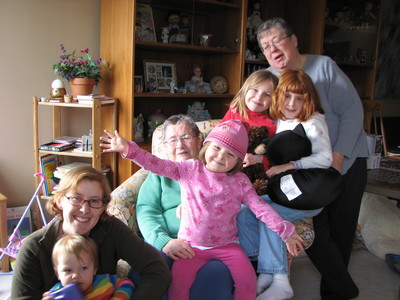 Layli is missing (she was at work, you go girl!) from this otherwise complete picture of the three generations of the Engle matriarchy and the female descendants thereof.

News bits:
Teresa's teething a molar and has had everything and everyone in her mouth and is showing her discomfort by throwing things on the floor, usually food or dishes. Not fun. But when she's comfortable she's coming up with these great songs and talks about everyone she's ever met. She can sing all of "Tender Shephard" (it's a lullabye from Peter Pan) and most of "God is Sufficient unto me..." (it's a Baha'i prayer).
We've had the usual round of winter colds with a dash of pink eye for variety. Cabin fever has ensued but we're all so much healthier than last year around this time that I feel relieved and thankful.
I've been reading: I just finished "The House of the Spirits" by Isabel Allende. Excellent story because it shows the relationship of cause and effect down through the generations of a wild and ambitious family. More graphic than I like usually, but it seemed more gritty and honest than just trying to be outrageous and thrilling. Plus it's about Chile! Mom gave it to me as a souveneir of her recent trip there for my cousin Lucy's wedding. Hooray! She and Grandma had a wonderful time there being enfolded in a very loving family environment where Grandma was the queen, since she was the abuela. Mom just went on and on about how close and attentive the family was to each other and how welcoming and kind they were to her. Yeah!
oo! And I've just started reading the very short "Journey to the Father: New Perspectives on Gender and the Baha'i Revelation". Anyone out there want to read it too so we can discuss it? I really want a discussion buddy (or 5) for this one. From reading the first few pages, it's proving to be just exactly my kind of book- introspective, personal and also connecting and responsive to society at large. Plus, it's so short (60 pages) that I feel like I'll be able to take it all in without getting too overwhemed. I think I'll be ready to discuss it in about a week, but I can wait or even lend someone my copy if they need it.
Posted by Bahiyyih at January 27, 2007 12:55 AM