spring goodness
I want to put up pictures of all the fieldtrips I've been taking the kids on. We'll see how far I get before everyone wakes up:
OK, so I got none posted before everyone woke up, but they're all asleep again now, so...onward!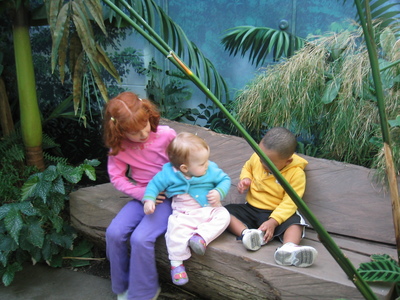 We went to Miller Park Zoo in Bloomington-Normal and Teresa made a little friend.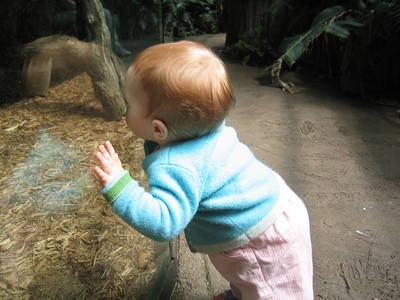 Here's Teresa looking closely at something. I think it was a sloth.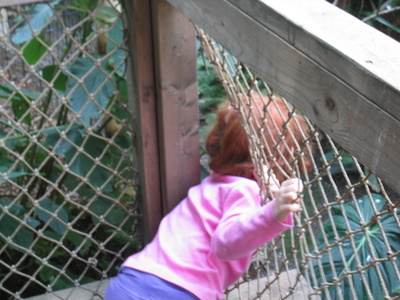 Georgia wanted to get a closer look at the birds...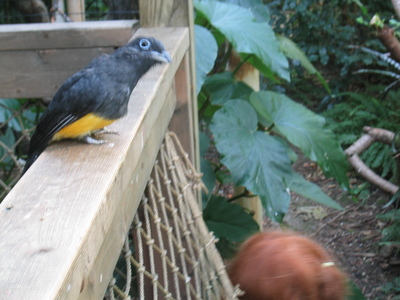 But who's watching who here? The troupial is checking out the strange antics of the young human.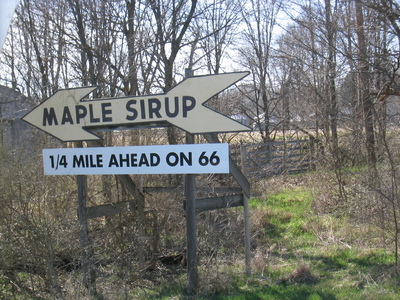 That day we also went to Funk's Grove Maple Syrup Farm and got a gallon of really yummy syrup (sirup is the old-fashioned spelling). There was also a really great nature center near there called Sugar Grove Nature Center that I really love. It's the deluxe model- with rocking chairs in the bird-watching room and a play camping area and a sand table for making animal tracks in with little stamps and on and on- great stuff for little kids. Of course I forgot to take pictures of it but I will go back there and I will take pictures next time. I promise.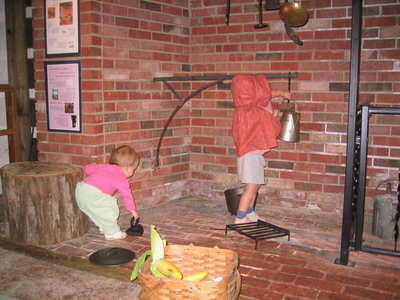 The next week we went to the Early American Museum in Mahomet and they loved it! I was suprised and happy with how long they spent in this play house all set up like Little House on the Prairie (which we've started reading at bedtime). Maya wore this adorable bonnet that I couldn't get enough pictures of. Teresa's going to help with the ironing while little red riding hood makes coffee.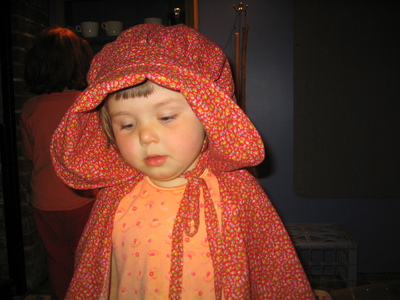 See? Isn't it so cute? My heart beats quicker and I'm all in raptures over that little red bonnet-y thing. How do you make a thing like that? I need a pattern! And it has to become her favorite thing so she'll wear it all day every day.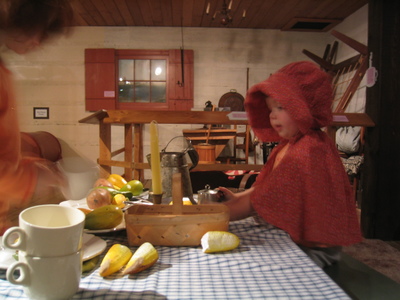 Here she is again with it, serving coffee to Georgia in a cutely bossy way.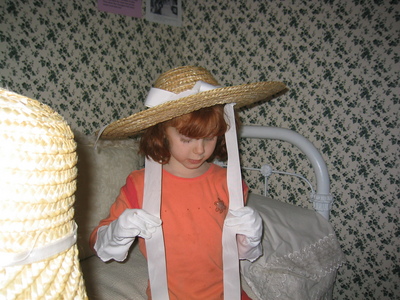 Georgia got into the dress-up thing too. This was in a little girl's bedroom set in 1920 or so.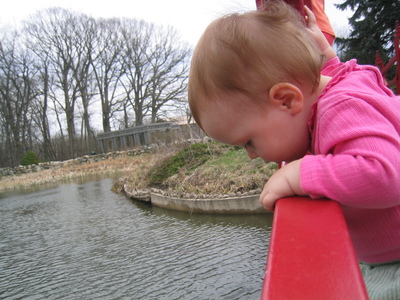 Teresa's looking at the carp in the pond outside the museum in the Botanical Gardens. It was chilly that day so we had the museum and gardens all to ourselves.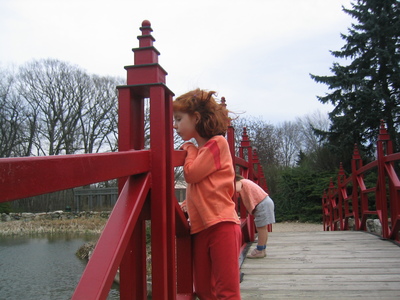 I really like this picture of Georgia (even though it's a little blurry) because it really looks like she was that day- contemplative and still. And I love the contrast of the impish Maya behind her sticking her head through the bars to get a closer look at the fish.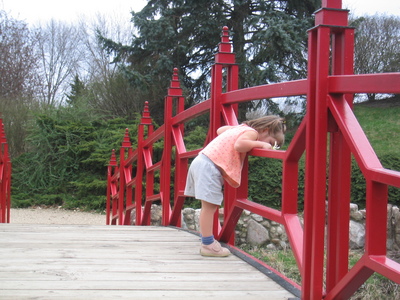 Here's just her, holding tight to a beautifully fragrant magnolia blossom (that she defiantly insisted on picking). But who can blame her? It smelled SO GOOD.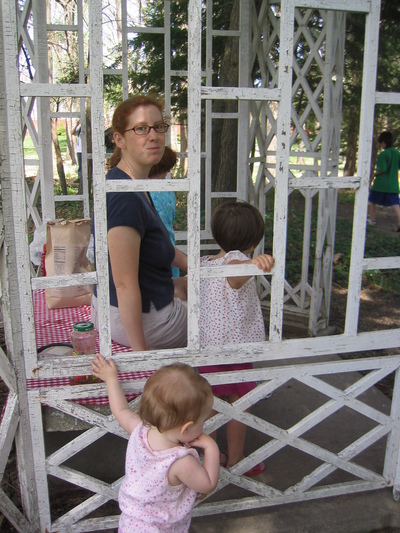 One Saturday we went to Allerton Park (near Monticello, IL) and Billy started taking pictures of our little picnic in the gazebo and after he took this picture he must have told the girls to make a silly face because look at the expressions he got!...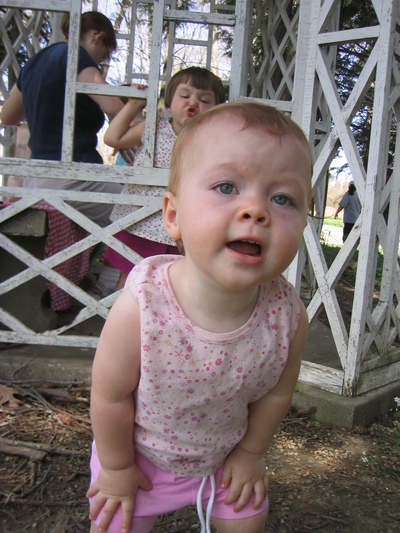 Here are my flowers- Georgia straight and true, maya shining on everyone, and Teresa looking very wise and pleased with the world.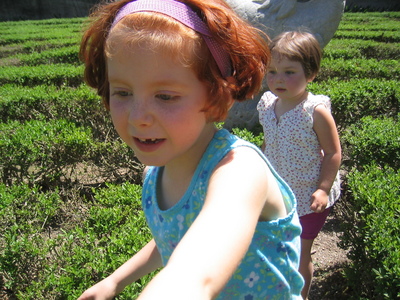 Georgia's leading the way out of the Chinese hedge maze.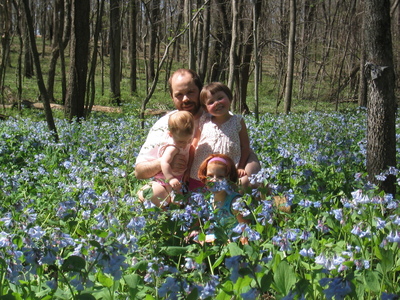 Bakers in a carpet of bluebells. This is the reason I dragged everyone out there and made them hike farther than they wanted to through the woods. The walk was hardest on Georgia, who was tired, but Billy and I took turns talking her through it and by the end she was pretty cheerful.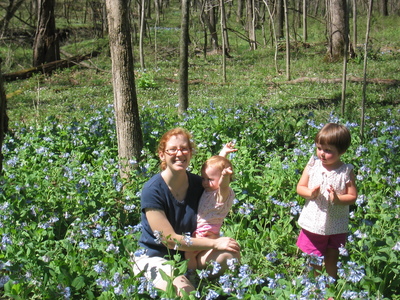 More bluebells. Teresa makes her sign for 'all done'. She's ready for a restorative nurse. Maya says it looks like Teresa is doing the 'tree' pose in yoga, so she starts getting into position to demonstrate.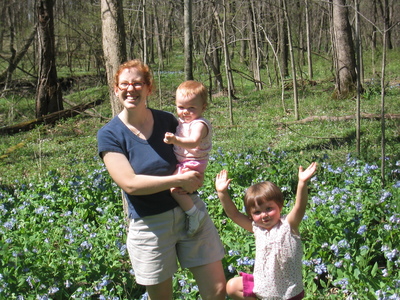 There it is- the 'tree' pose that Maya learned from Heidi's Yoga Kids video. I'm loving it. Teresa is non-plussed since there has been no nursing yet.
Yesterday we went to Homer Lake and did some camping lite but those pictures and stories will have to wait for another day because my big guy is passed out on the couch and needs to be taken to bed.
Posted by Bahiyyih at May 7, 2006 11:45 PM