this is actually about the eleventh, but it was late at night...
what I was trying to say in the earlier post was that it was Georgia's birthday and it was really fun and we took lots of pictures. Let's see what turned out well enough to put up...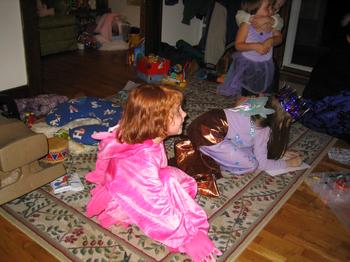 Here's a good moment.. Bahia was making the girls laugh by telling them she was going to do a scary face and then making a silly one every time instead. And Amy is hugging Maya in the background.
The flash 'was not kind to us' this night, says Billy. All the pictures we took look really harsh, lighting-wise. We need a new camera that will let us not use the flash and yet not be blurry. There are also many moments that were captured in little movies- hard to post up here...like Maya insisting on singing Happy Birthday to Georgia by herself and the kids whacking away at the pinata...others that we have stills of but just didn't turn out that well... Billy dressed up as a baby (it was a costume party) and lots of birthday mayhem. Here's a cute one of Teresa as a fairy- well we put wings on her anyways- and I'm 'mother nature' or 'fairy girl' or 'nature angel' or some variant of what I always am when I dress up in this old costume of my mom's.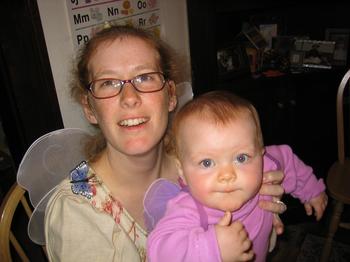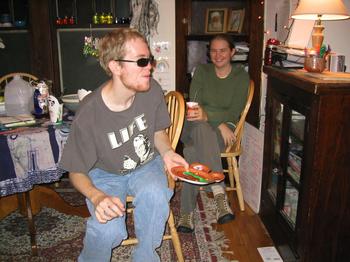 And here's Khalil right after he did his scary face for the girls (that dern camera. it takes too long to click). Billy says it's an interesting picture anyways because Khalil's chin is kind of square.

Posted by Bahiyyih at October 12, 2005 12:29 AM