mimosa festival!
The 3rd Annual Mimosa Festival/Maya's Birthday went beautifully on Saturday in our backyard. I think that was the first real big party we've had since Teresa's birth. There were many friendly faces and lots of bubble blowing and silly stories and firefly catching and it was great to see people from different parts of our lives- Baha'i friends, neighbors, family, frisbee friends, all getting to know each other and enjoying a happy evening together. Behind the scenes, Billy and I tried really hard to make it a reasonable experience for the kids and for ourselves so that we would still be happy and energetic at the party. We did as much as we could ahead of time and relaxed and took the kids swimming before the party started. And it really worked! We sailed through the work of hosting, dealt with poor Teresa'a misery (she has her first cold and was feeling pretty yuccy that night), and really got to enjoy talking with everyone that came. I was so extremely happy to see everyone that came and played with us. At the end of the evening, we all put our chairs in a circle and had a silly songs contest and Billy served everyone his homemade popsicles. Isn't he a sweetie? Here are a few pictures.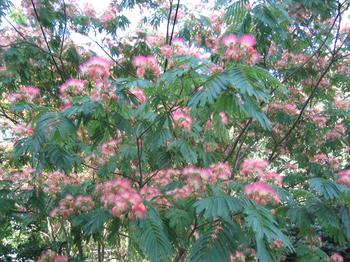 The celebrated mimosa tree. It was a love shack that day with soldier beetles getting their groove on all over it. Ahem!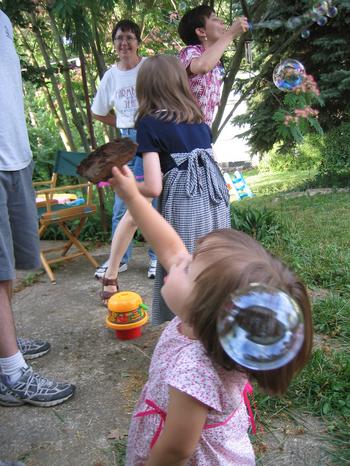 What is Maya holding up? A piece of bark? Anyways, lots of lovely bubbles being blown by neighbor Polly.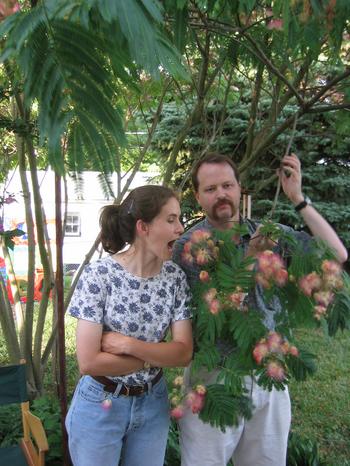 This one is so funny. Help me with a caption here. Dan's expression is priceless.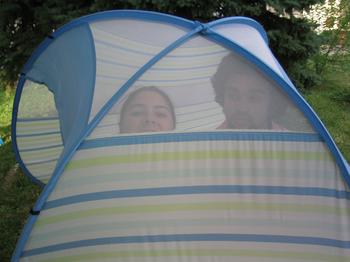 I love this picture! And the people in it! They look like kitties hiding in a box, which is appropriate since they just took in a mama kittie that just had her babies in their pantry.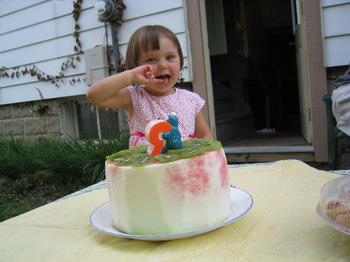 Maya! Insisting on doing this weird posed thing in front of her watermelon 'cake', she must be thinking 'mini meee' about cookie monster there.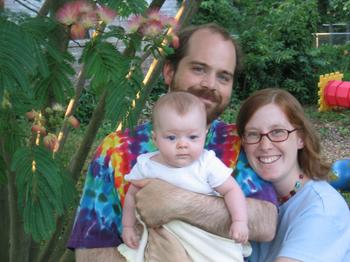 Don't Billy and I look all relaxed like we've been lounging poolside all afternoon?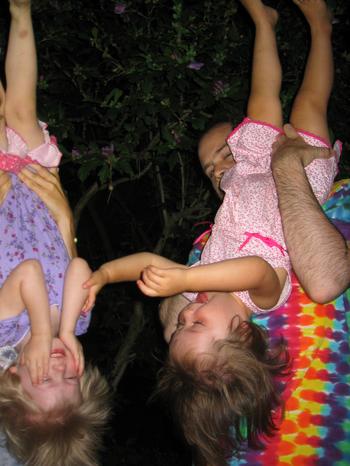 Maya and cousin Amy upsidedown. Yeah!
Posted by Bahiyyih at July 4, 2005 10:14 PM