girls vacation
It was just the girls, out on a boy-sponsored (and suggested) road trip. I was sick of sitting around waiting for spring to let us out of the house, so we drove south and with every hundred miles, we got a week farther ahead into spring. There was forsythia blooming in Kentucky and daffodils and peach trees blooming in Tennessee. I got to see lovely hilly country and the soil as orange as Georgia's hair and lots of cows, horses and emus grazing along the way. I tried to make the trip as kid-friendly as possible, since it was our first big road trip together. I wanted them to have positive associations with traveling with mom so we could do it again someday soon. And Georgia asked today if we could live at the campsite instead of our house, so I think that worked out alright.
We started out going to the Indy Zoo on Monday, and Georgia saw her beloved penguins, Maya enjoyed the baboons (especially a baby baboon that peed on a rock, Beep! Beep! Potty! Potty!, she yelled excitedly as I smiled at the fellow onlookers and tried for nonchalance about the whole thing), and I loved the giraffes. They are so beautiful and graceful. And there was a very cute baby giraffe. That night we stayed at the elegant Omni Hotel ( for $45, thanks to priceline) and enjoyed the pool and cable TV. Tuesday was driving day down to our campsite at Cedars of Lebanon where we pulled in after dark and made a bed in the back of the van and looked at the stars. Maya was discombobulated about such strange sleeping arrangements, but she woke up happy. Georgia thought the whole camping thing was really fun, she had her own lantern and when we set up the tent the next day, she liked running in and out of it. On Wednesday we played all day and slept in the tent at night. Maya was, again, not too pleased with the new sleeping arrangements, but the other parts of camping she enjoyed very much. All the running around outside, playing with RV people's dogs, and a beagle from the subdivision that was out slumming at the campgrounds became her companion, even though she stole Maya's corndog, and a playground with a really fast slide. We all thought having a campfire was fun, especially roasting marshmallows and warming up soup and baked beans in the fire. We all thought said beagle howling all night because we wouldn't let her into the tent to sleep with us was not fun. Another camper tried to lose her, driving her far away, but she just found her way right back to us and started scratching at the tent right by my head for me to let her in. He finally locked her into the bathroom, so I eventually got some sleep. The girls slept right through most of it, thankfully. The weather was really fine for us, just gently warm all the time. And I've never camped without bugs before. I did not miss them. I was really happy to bring out my trusty REI tent that I love but which has been collecting dust for years. It reminded me to be confident in myself, knowing I can make a place for myself and my kids that we can live and thrive in. I think Georgia and Maya both felt braver too, talking to strangers and trying new things. The drive back was less fun for all of us, but we had a good time at the Indy Children's Museum on the way back (the biggest in the world!) and staying at another fancy hotel for cheap.
I put up the tent in our living room to air it out but also because I don't want to forget the things I learned on this trip: I really enjoy living with my kids at their pace and really listening to what they want to do, hugs and kisses go a long way in preventing conflict and encouraging good behavior (longer than I previously thought possible), I really like my kids as people- they're hilarious and good-hearted, and I like places that have hills! I miss the orange dirt and every stranger trying to help me because (with southern accent), 'looks like you gotch yer hands full there'.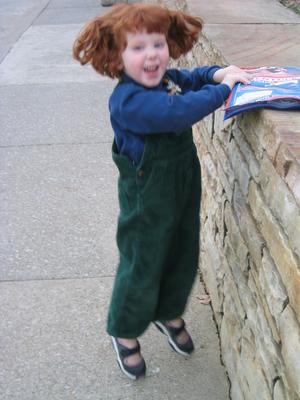 Kentucky rest stop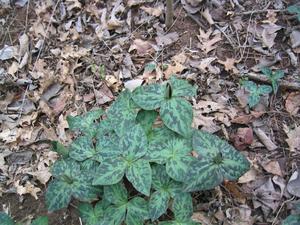 Name that flower!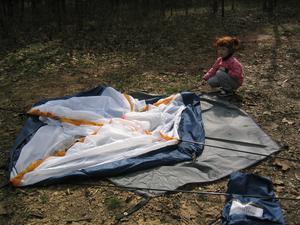 superhelper putting up the tent with mommy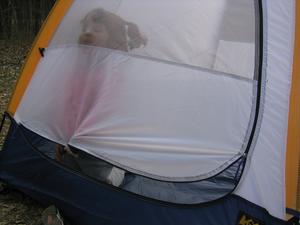 goofy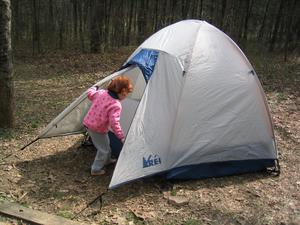 looking fly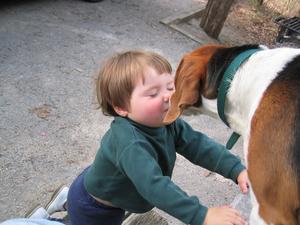 Maya-beagle smooch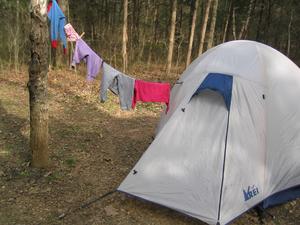 homey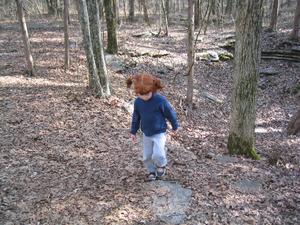 Georgia chasing the beagle who was madly chasing a rabbit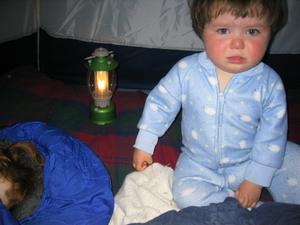 Maya not thrilled to be going to bed in the tent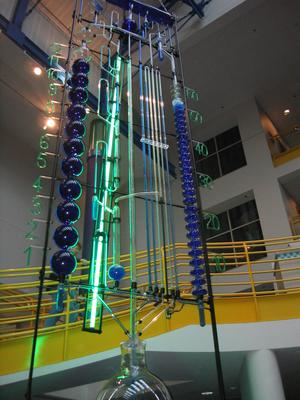 Indy Children's Museum water clock- mesmerizing to watch water move through all those tubes to measure the time
Posted by Bahiyyih at March 28, 2004 06:44 PM