Comfortable Pajamas
Here's Georgia's chosen place of rest one recent evening. She found an old sweater of Mommy's that had had a bad experience in the washing machine and is now no longer poofy and roomy on any adult in our household. But there's plenty of room in it for Georgia!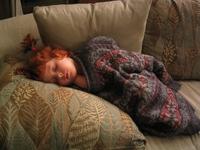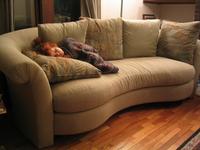 A cozy sweater and a place of one's own.
Ooh, ooh, and I got to try out the manual settings on our camera, since (as you can tell from the picture) nobody was in a hurry for me to finish. I used the back of a dining-room chair for stability, and it worked surprisingly well for a one- or two-second exposure.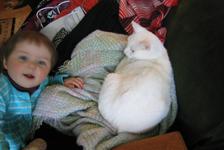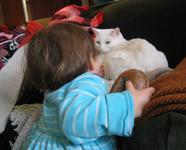 Maya and Grampy's kitty, Fiona, are mutually entertained.
Maya and I ran some errands a couple of weekends ago, including dropping off a small item at Grampy's house. We stayed for a while to hang out with the locals, who were having a very relaxed Saturday morning.
Posted by Billy at March 25, 2004 07:28 PM