February!
If anyone has a good reason to like February (besides Ayyam-i-Ha) please let me know. Please really do. I need a list of wonderful things to do and think about in February to get me through it. We've exhausted our list that we made in the fall of all the things we would do to overcome the winter blahs. And by now in the winter I've just about had it with the finger-and-toe-scicles and ice and lingering colds. Here at home with the kids, we get pretty tired of the winter routine. I was thinking about this on my way to drop off Georgia at pre-school and the sun that's out today started started something good in my head. When I stopped into Strawberry Fields for my staples of hummus and hearty vegetable soup, I noticed that the produce department is looking really colorful, and I started noticing, as I put these colorful things into my basket, that my mood was getting lighter and lighter. Then I smelled the strawberries, all summery and red flowery, and I was feeling all good. So I brought it all home and took a picture of it, and with the magic of digital cameras, here it is.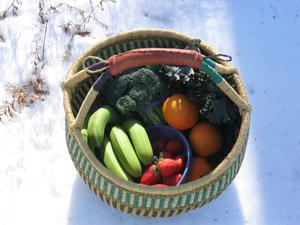 Thank you truckers and all transportation types for bringing me a rainbow in February. I really appreciate it.
So that's my contribution to the list of good things to do in February: bring a bunch of brightly colored produce into your house with every intention of eating it to get yourself healthy. What else?
Posted by Bahiyyih at February 11, 2004 02:23 PM